10 Most Trendy Restaurants In Brooklyn, 2023 (A Foodie's Guide)
Brooklyn is one of the most beautiful boroughs of New York City. It has a great neighborhood feel and is home to many families. Moreover, there is no doubt that food in Brooklyn is the best, not just in the city but in the country.
There are restaurants everywhere in Brooklyn that not only serve trending dishes but are also known to create new trends. If you are a foodie, have visited, or are living in Brooklyn, you must know what we are talking about.
However, with each restaurant serving dishes belonging to new concepts and elevating the original beauty of varied cuisines, it becomes harder to pick the best. Thus, this blog provides a compiled list of the most trendy restaurants in Brooklyn so you can avoid the hassle of finding one yourself.
Best Trendy Restaurants In Brooklyn
Check out the finest dining places or the most trendy restaurants in Brooklyn to pick out the best among the top choices available. Don't worry. We have kept everything from ambiance to serving time in mind while picking each and every restaurant on the list.
Nota Bene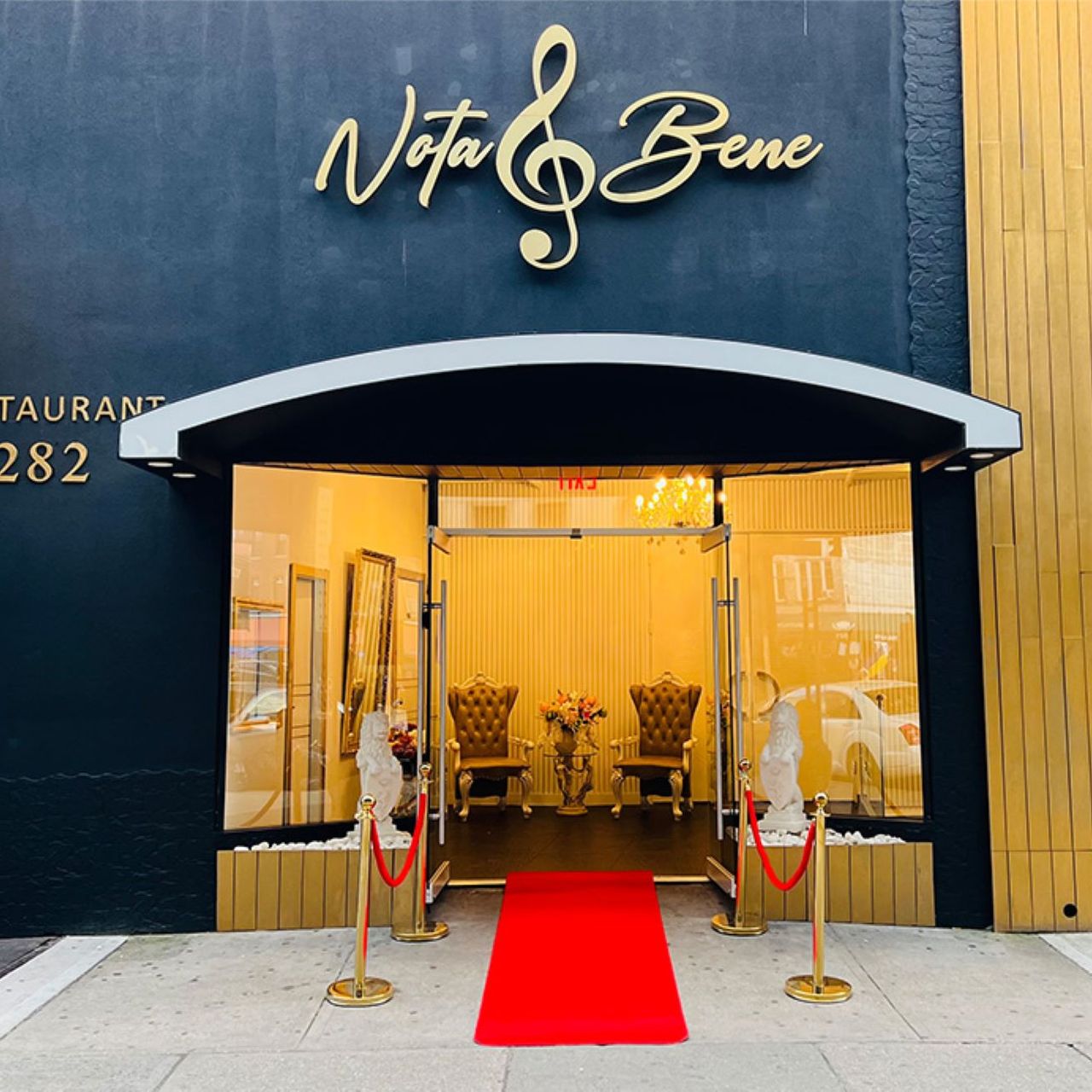 Nota Bene is a classy, elegant, luxurious restaurant perfect for all your special moments.
The restaurant serves classic Italian dishes, mouth-watering French pastries and delicious Georgian plates. All these dishes are made with authentic and high-quality ingredients. Moreover, the restaurant's white-themed interior gives you a luxurious feel while enjoying the food. If you visit Nota Bene, you cannot miss the Frigania toast bread with a sunny-side-up egg. This dish is crunchy and soft at the same time!
In addition, the staff is professional and friendly and will assist you to your designated table. So, why are you still thinking? Book your table now and enjoy the classy meal with your family and friends.
What Can You Order?
You can try these dishes:
Croissant Sandwich with Cream Cheese, Spring Mix and Smoked Salmon
Gurian Salad Tabutsuni (Fresh Tomato, Cucumber Mixed with Walnuts, Garlic, Coriander Sauce)
Atlantic Salmon with Grilled Vegetables
Address- 282 Brighton Beach Ave, Brooklyn, NY 11235
Contact- 1-718-676-0297
Timings- Friday to Sunday: 10 AM–11 PM
Monday to Thursday: 10 AM–10 PM
Email- info@notabene-restaurant.com
Website- https://notabene-restaurant.com
Nura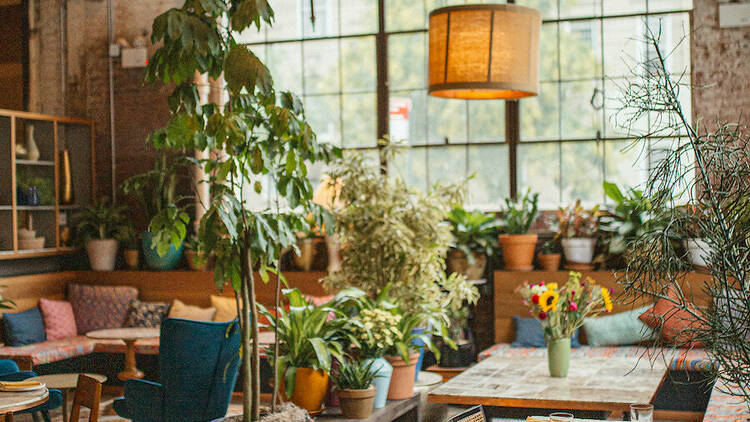 Nura restaurant will never disappoint you if you are looking for an amazing dining experience. The ambiance and interiors are the best for your instagram feed, and trust us, you will get thousands of likes. It's airy, claiming, and surrounded by greenery.
Moreover, the best meal you can try here is Nura's Green Chorizo Lamb Kofta. This dish is full of flavors and is smooth, and you will experience a strong flavor of lamb that is juicy. After eating the whole, you will consider ordering another one.
The must-have and the highlight of the restaurant is the Baby Back Ribs! The meat is seasoned with Middle Eastern flavors and so soft that it melts perfectly. In addition, they put cherry chipotle sauce to make the dish more delicious.
What Can You Order?
The dishes you can order are:
Prawns (Aji Amarillo, Passion Fruit, Urfa Biber, Mezcal)
Green Chorizo Lamb Kofta (Cashew Crema, Mint, House Tajin)
Address: 46 Norman Ave, Brooklyn, NY 11222
Timings: Dinner| Tuesday-Saturday| 5:30 PM - 10:30 PM
Sunday| Sunday| 5:00 PM - 9:00 PM
Brunch| Saturday- Sunday| 11:00 AM - 3:00 PM
Gage & Tollner
Are you craving American- French cuisine? Fulfill your craving with Gage & Tollner! Gage & Tollner is located in the downtown street of Brooklyn and stands out from the neighboring restaurants. Moreover, the restaurant's ambiance is all furnished, provides vintage vibes, and makes you feel like you have come to a posh place. They serve the American-French-English in generous portions, so you don't worry about ordering another. Moreover, coming here is like self-caring.
You are missing the best if you are not ordering their popular NY Strip Steak dish. Only a few bites of this dish will make you feel like you are in heaven. You are probably thinking, what makes this dish so delicious? Of course, the Bearnaise sauce makes its taste mind-blowing, which everyone loves.
In addition, they also serve a variety of soups, and the best of all is the Mushroom soup. This soup is cooked with the Ras el Hanout, and the rich Porcini butter is delightful. In addition, sipping each sip will make you feel like you are sitting in a forest and having soup with a beautiful view.
What Can You Order?
Must try dishes:
G&T Chilled Seafood Platter ( Oysters, Clams and Shrimp Cocktail, Classic Garnishes)
NY Strip
Beef & Barley Soup (Sweet Bay Bone Broth, Braised Beef, Ginger-Scallion Sofrito)
Address: 372 Fulton St, Brooklyn, NY 11201
Timings: Monday-Thursday 5-10 PM
Friday - Sunday: 11:30 AM-10 PM
Lilia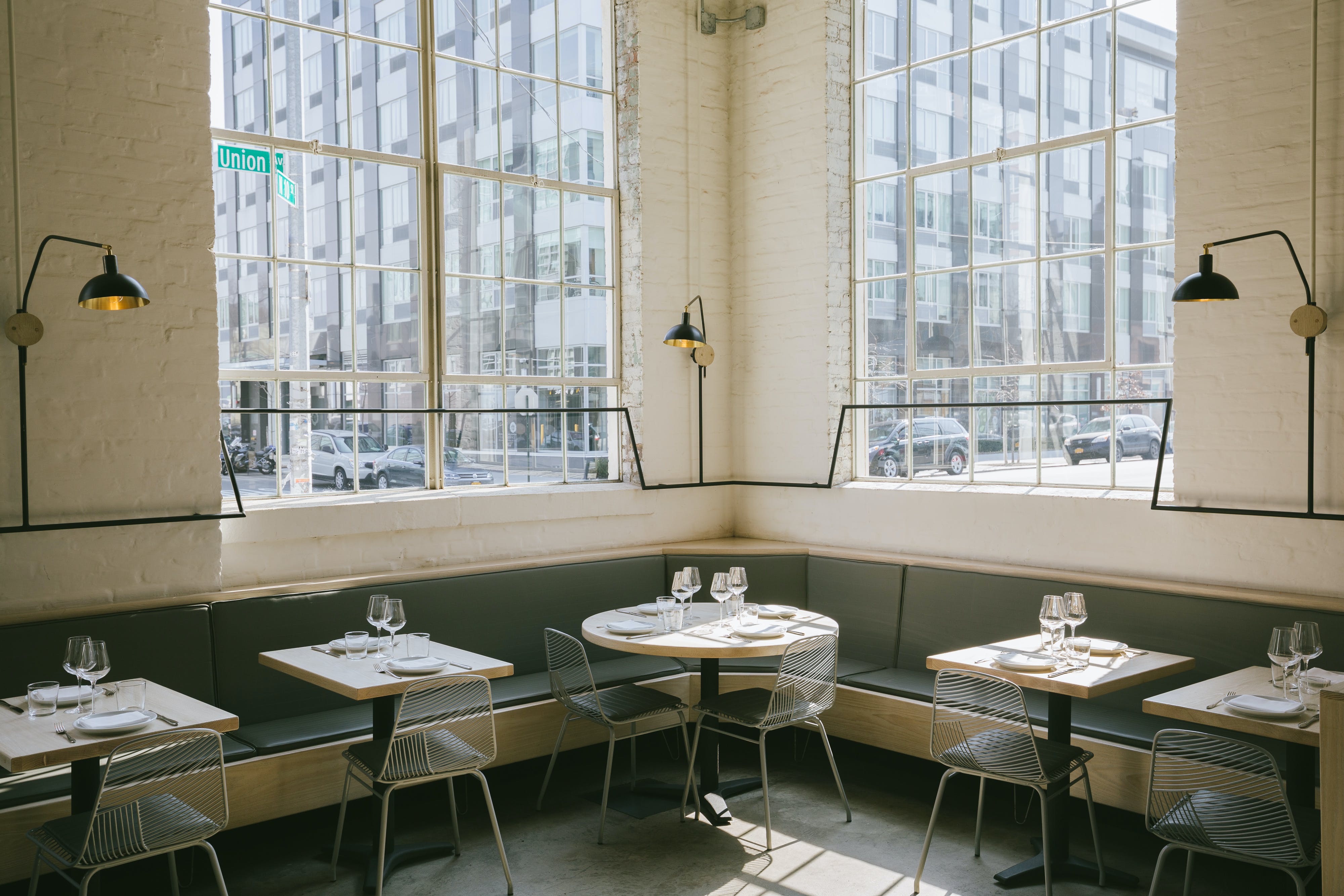 Are you looking for a restaurant where you can get a homemade touch? Look no further than Lilia! You will get handcrafted classic Italian cocktails, wood-fired seafood and pasta at Lilia. They make all these dishes with simple ingredients, and the atmosphere is also warm and welcoming.
One of the famous dishes is the Mafaldine, a pasta dish shaped like a flat ribbon. Moreover, the dish is made with fresh ingredients, tossed with pepper, and in the final stage, topped with Parmigiano, which gives it a delicate flavor. The filling of pasta is filled with sheep's milk cheese, which fills your mouth with a creamy flavor when you take the first bite. In addition, they also add honey and saffron to provide a little rich sweet flavor.
What Can You Order?
The dishes you can try:
Grilled Clams
Grilled Prawns
Sheeps Milk Cheese Filled Agnolotti
Grilled Lamb Leg Steak
Address: 567 Union Avenue, Brooklyn, NY 11222
Timings: 4 PM- 10 PM daily
Francie
Suppose you are looking for a restaurant for a special occasion or date with your special one. Stop your search now! Francie is a European-inspired restaurant, and here you will find the best ducks in the whole of NYC. The design of the place looks like a bank, like the early 1800s, with an open kitchen so that you can see how they put their magic in the dishes.
The dish that everyone raves about is the Dry-Aged Crown of Duck. This dish has a crispy texture, and at the same time, it is juicy, sweet and savory. However, if you are not fond of eating ducks, they have other options like the delicious Lobster Ravioli, served with creamy sauce and authentic herbs. It is the best pasta option you can try out! I know your mouth is drooling by only imagining this dish.
They provide numerous options for dessert also, like the Pavlova (made with lime, roasted pineapple and coconut), Petit Gâteau (made with caramel creme aux, cocoa nib ice cream and dark chocolate mousse) and more! We suggest you order these dishes more than once because one will not be enough!
What Can You Order?
Try out these dishes:
For Snacks - Sweet Corn Bomboloni (made with pancetta pepato and summer truffle)
For Starters - Spanish Duck Chorizo (made with duck ham sofrito and patatas bravas)
For Mains - Porchetini (made with potato terrine, rosemary jus and tomato mostarda)
Address: 136 Broadway, Brooklyn, NY 11249
Timings: Monday to Friday- 5:30- 10:30 PM
Saturday- 5- 11 PM
Sunday- Closed
French Louie
Are you looking for an ideal Brunch spot? The best is in front of you! It has an amazing ambience and vibe where you can chill with your family and friends.
The restaurant's menu is limited, but they are perfect in their cuisine, making all the classic dishes delicious. For example, you can try out french toast, which is coated with creme fraiche flake and apple butter to provide you with a special taste. Moreover, you can also try the customized breakfast with crab, poached eggs and croissants covered with hollandaise sauce. The combo dish you never want to miss out on is their smoked trout with salad, multigrain toast and creme fraiche.
What Can You Order?
Don't miss to try these dishes:
Chilled Tomato Soup (made with chile oil, grilled watermelon and cucumber lime sorbet)
Cast Iron roasted chicken (made with summer vegetable ratatouille and red pepper vinegar)
Address: 320 Atlantic Ave, Brooklyn, NY, United States
Timings: Lunch| Tuesday-Friday: 11:30 AM-3 PM
Dinner| Monday-Thursday:5 PM - 10 PM
Friday & Saturday: 5 PM-10:30 PM
Sunday: 5 PM-9 PM
Kokomo
Kokomo restaurant provides the ultimate experience that you desire! Their outside dining area is outstanding, which you have never seen in other restaurants. Moreover, the interior is filled with all vibrant colors and beautiful lights. This restaurant is about keeping all your outside world worries aside and enjoying the food with the claiming vibes.
If you are a person who likes to eat cheese, there is the right dish for all cheese lovers! The Oxtail Flatbread is made with cheese, and all the right seasonings are added. In addition, this dish is made with a sweet tomato that perfectly compliments the Oxtail, and onions provide a touch of crispness.
Do you know what island pasta is? Have you heard about it? You can have it in Kokomo, and it tastes amazing. Moreover, it is perfectly made with Creamy umami and Caribbean spices and gives you a flavorful taste. Kokomo's Island pasta is worth the try!
What Can You Order?
Try these best dishes:
For Brunch - Kokomosas (made with pomegranate, cranberry, blood orange or pear and served individually or as a flight)
For Starters - Oxtail flatbread (made with savory tomato confit, fried onions, the blended Italian cheeses)
For Mains - Vegan mushroom ravioli (made with vegan cheese and creamy marinara)
Address: 65 Kent Ave, Brooklyn, NY 11249
Timings: Monday- Closed
Tuesday-Thursday: 5:00 PM -10:30 PM
Friday & Saturday: 11:00 AM - 3:30 PM, 05:00 PM - 11:30 PM
Sunday: 11:00 AM - 3:30 PM, 05:00 PM - 10:30 PM
Sunday In Brooklyn
Sunday in Brooklyn deeply cares about its customers and the food they serve. They make every dish with love and care. It is a three-story building that offers the best food experience. Do a get-together with your family and friends and enjoy the warm welcome on a Sunday morning.
What can you try on Sunday in Brooklyn? When you are in doubt, just try their pancakes. The pancakes are the top option for every customer. In addition, the texture of the pancakes is buttery, fluffy and thick and is topped with maple syrup to blanch out the sweetness, which makes your Sunday morning more special.
Moreover, another best you can try is the Cheddar Scramble- a balance of healthy and delicious dishes for your breakfast. The flavorful, scrambled, soft eggs are served with multigrain toast, some fries, sausage, and savory or crispy bacon to provide more flavor.
What Can You Order?
These dishes are worth the try:
Sunday Pancakes (made with Brown butter, hazelnut maple praline and wheat)
Shakshuka (made with poached eggs, stewed peppers & tomatoes, focaccia and wheat)
Address: 348 Wythe Ave, Brooklyn, NY 11249
Timings: Monday-Thursday: 9:30 AM -10:30 PM
Friday & Saturday: 9:30 AM -11:00 PM
Sunday: 9:30 AM -10:30 PM
Agi's Counter
If you are looking for a cute breakfast and lunch spot, Agi's Counter is the right place for you! The ambiance of this place provides you with the vibe of a European breakfast counter. In addition, the beautiful wallpapers of the place make you feel like sitting for a longer time. The dishes you can try are the yummy thick toast of slabs and soft pastries.
The Confit Tuna Melt complements the classic sandwich perfectly. Moreover, it is served with a grilled potato, and the sandwich provides a crunchy flavor, and the tender tuna easily melts in your mouth. In addition, to give you a perfect balance with the dish, they serve you refreshing cabbage slaw and alpine cheddar filled with cream, making the dish more delicious.
If you are a person who loves to eat Hash Browns, this place is for you! However, these Hash Browns are not normal ones that you eat in your daily life. The texture is thin and crispy, topped up with strips of potato, scallion ribbons and sour cream of thick consistency. Eating it for the first time makes you want to eat it every morning.
What Can You Order?
These delicious dishes you can never miss:
Confit Tuna Melt (served with griddled potato pullman with alpine cheddar & a side of cabbage slaw +add fried egg —2)
A bowl of Agi O's (made with maple & honey roasted oats, almonds, walnuts, flax seed & sunflower seeds with candied ginger & cherries. Served with a choice of milk Sub. yogurt & compote -5)
Address: 818 Franklin Ave, Brooklyn, NY 11225
Timings: Monday and Tuesday-Closed
Wednesday to Friday- 9:00 AM - 4:00 PM; 5:30 - 10 PM
Saturday and Sunday- 9:00 AM - 3 PM; 5:30 - 10 PM
Chez Ma Tante
Having your favorite Brunch in a cozy ambiance sounds dreamy, right? Chez Ma Tante provides an exceptional experience, convenient service, the best view and a tasty meal.
Don't miss out there delicious and fluffy pancakes served with maple syrup. Moreover, their chips and aioli have another fan base as they perfectly made the duo amazingly delicious. At the final stage, they will serve you a drink of Pinot Noir to end your meal on a good note.
What Can You Order?
To make your day delicious, try out these dishes:
Stracciatella (made with sungold tomatoes and basil)
Fennel sausage (made with butter beans, kale and green chartreuse)
Chocolate cake (olive oil, whipped cream)
Address: 90 Calyer St, Brooklyn, NY, United States
Timings: Brunch| Saturday and Sunday- 10:00 AM–3:00 PM
Dinner| Monday to Sunday- 5:30 PM–10 PM