10 Best Brunch Restaurants in Brooklyn, NY (2023)
In New York City, Brooklyn is one of the five boroughs. Out of so many exciting things to explore, the best thing about visiting Brooklyn is tasting the different mouth-watering Brunch dishes.
Brunches are generally held when you have plenty of space for people to socialize and want to enjoy a beautiful ambiance and calming surroundings with your friends and family, as it is all about gossiping, catching up, and chit-chatting while enjoying the food.
Brooklyn brunch restaurants are the highlight of the day, where you will get all the popular delicious breakfast and lunch menus like the Southern, Caribbean, Nikkei, and Mexican cuisines.
However, whether you are a local or just visiting for the first time in Brooklyn, finding the best restaurants in Brooklyn can be a hassle.
Thus, to save you from all the trouble of getting through the reviews and checking star ratings, we have picked up the finest brunch restaurants in Brooklyn for your next date with your family or friends.
Best Restaurants for Brunch in Brooklyn
After carefully making remarks on the ambiance, customer service, the food serving time and temperature, the staff's behavior, the quality of the ingredients, and most obviously, how the final dishes served taste, we have picked these gems "the best places to have a brunch in Brooklyn."
Sunday in Brooklyn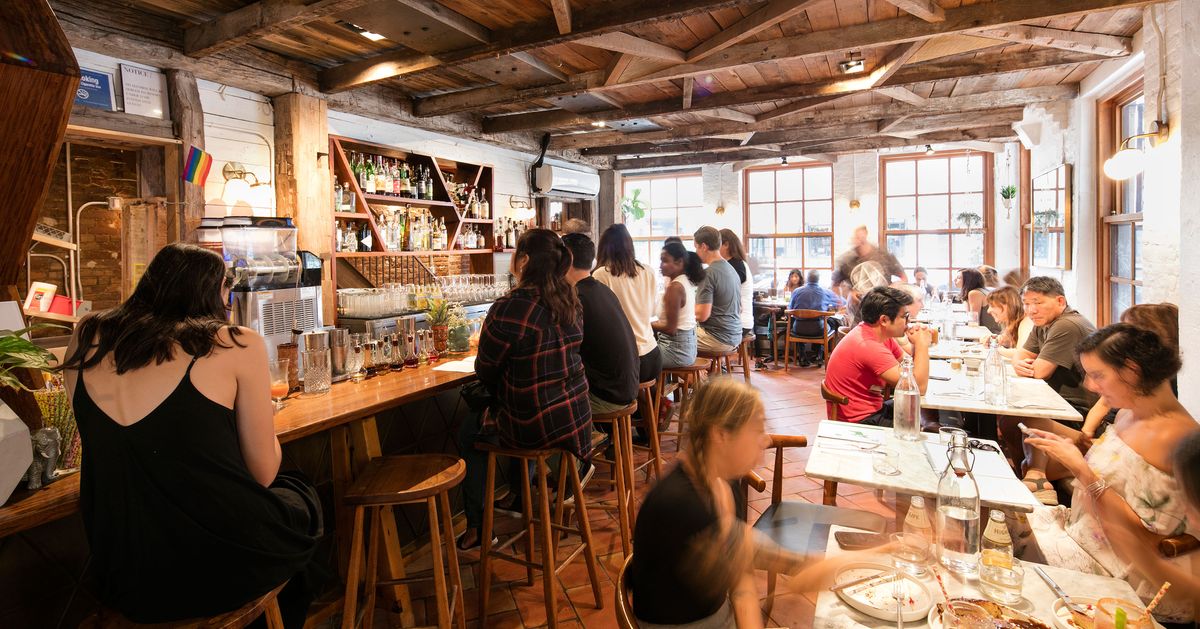 Sunday in Brooklyn is a brunch spot open every day of the week. Here, you will get a private dining room with a rooftop garden, a marketplace, and also an outdoor patio.
Why Should You Go Here For Brunch?
The Sunday in Brooklyn menu is filled with delicious brunch dishes, including lighter choices, like avocado toast with preserved tomatoes, carrot bread with ginger cream cheese, and the egg sausage sandwich with potatoes.
It is a perfect space for those who like natural light beaming on their faces while enjoying their food, the tabletops of white marble giving pleasant vibes, providing themes according to the seasons during winter; they have the theme of "Snow day in Brooklyn" with all the comfort food to warm your winter season.
What Can You Order For Yourself?
You can go for the Black Cod Pastrami for your brunch if you want something homemade.
The Cod Pastrami is made with homemade sour cream, freshly toasted pieces of sourdough, and pickles giving you the perfect bites.
Address: 348 Wythe Avenue and South 2nd Street, Brooklyn-11249
Cross street: Between S 2nd and S 3rd
Brunch:
Monday - Sunday:
9:30 AM - 4:30 PM
Nota Bene
In Brooklyn, Nota Bene is one of the best multi-cuisine restaurants, where you will find different varieties of cuisines ranging between Italian, Georgian, and French. The all-white ambiance and interiors of the restaurant give this place a luxe feel, making it a great option for dinner dates as well.
The food portion size they serve works great for the brunch table, and their Georgian dishes have a touch of authenticity. Everything is prepared with farm-fresh ingredients to deliver an absolute treat to your taste buds. The richness of this place in terms of flavours, ambiance, and food choices makes it a solid number three on our list.
Why Should You Go Here For Brunch?
The place's ambience is something that makes you choose the place over and over again. Their Georgian food is their specialty, and the freshly baked bread is something loved by every diner. Additionally, the food is served hot, and the serving time is around 30 minutes with takeout options as well, making it a great choice for those who want to grab a quick bite but doesn't want to compromise with the quality and taste. Being located near Brooklyn Bridge adds another star to the restaurant's total tally as it's an easily accessible and primely located option.
What Can You Order For Yourself?
If you are choosing the restaurant for a brunch date with your gang Mtsvadi, Tabaka, Lamb Chops, and Adjaruli Khachapuri are some of the must-haves. For the pizza choices, Burrata Pizza tastes the best if you start gulping it as soon as it is served. For desserts, go for German Strudel with Ice Cream.
Note: For fancy dates, their fish menu with dishes like Atlantic Salmon with Creamy Parmesan Sauce is the best choice.
Address: 282 Brighton Beach Ave, Brooklyn, NY 11235
Call Us: 1-718-676-0297
Email Us: info@notabene-restaurant.com
Menu: https://notabene-restaurant.com/menu
Brunch:
Thursday to Saturday: 10 AM to 2 AM
Sunday to Wednesday: 10 AM to 1 PM
Five Leaves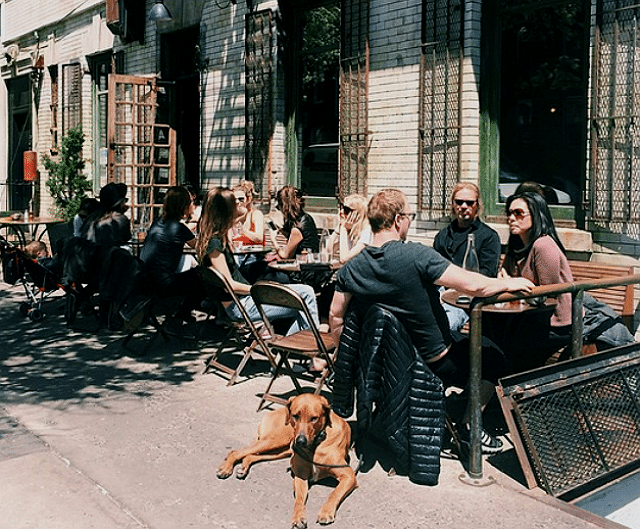 Five Leaves, the popular brunch restaurant, is not only famous because of the late, great actor Heath Ledger was one of its original investors but also the brunch menu they serve. They serve incredible pancakes, as these are some of the best pancakes in New York City.
The interior is filled with wooden chairs; contrasting the benches and painted black furniture is marvelous. From the dining space view, you can also see the outside passersby.
However, the famous items on the menu are mushroom toast, matcha chia pudding, and the daily quiche with fresh vegetables.
Why Should You Go Here For Brunch?
Five Leaves provides you with a breakfast menu that is inspired by all different continents. The place also serves some amazing dinner options. During brunch, you can also try the Devils on Horseback, which is unique.
What Can You Order For Yourself?
If you want late-night binge drinking, we will advise you to try Big Breakkie. This tried and tested hangover drink will also help you feel relaxed and fulfilled in the daytime.
Address: 18 Bedford Ave, Brooklyn, 11222
Cross street: At Lorimer St
Brunch:
Monday - Sunday:
8:00 AM- 11:00 PM
Sweet Chick
Comfort food is equal to Sweet Chick. This place specializes in serving some of the best-fried chicken waffles in New York City. A person with a sweet tooth will never be disappointed with home-baked desserts.
Why Should You Go Here For Brunch?
This place offers brunch on the weekends and also on weekdays. The delicious items here include ricotta pancakes and mac and cheese. Various dishes are present here; you can also try a house made of Granola, chicken, and waffles. If you go on a weekday when it is less busy, you will appreciate the effortless yet delicious breakfast you would ever have and understand what we mean.
What Can You Order For Yourself?
However, it is a good place for those who enjoy cocktails with a traditional touch, like mimosa and bellini.
Address: 164 Bedford Ave, Brooklyn, NY 11211
Brunch:
10 AM - 2 PM Everyday
Walter's
Walter is an American restaurant. However, it was a branch of Williamsburg originally. Walter is a place where you feel just like your home. Here you will find simple, well-executed classics, a friendly environment, and cost-effective prices. Walter is generally booked for the occasions, which doesn't require much planning.
Why Should You Go Here For Brunch?
You will find various American breakfast options and lunch favorites, such as fried chicken with spicy honey and lobster rolls.
They also offer brunch libations and raw options to make your brunch more special. Walter's is a must-try for those looking for a great brunch restaurant.
What You Can Order For Yourself
If you are a person who likes to explore Mexican food, you can try out this Mexican breakfast called Huevos Rancheros.
This dish includes two fried eggs, hash browns, guacamole, black beans, and also the lime crema.
Even after craving and wanting to end your hunger, you can also try Classic Belgian Waffle with fresh whipped cream, strawberries, and maple syrup.
Address: 166 DeKalb Ave, Brooklyn, 11217
Cross street: At Cumberland St
Brunch:
Monday-Friday 11 AM–1 AM
Sat & Sun 9 AM–1 AM
Leland Eating And Drinking House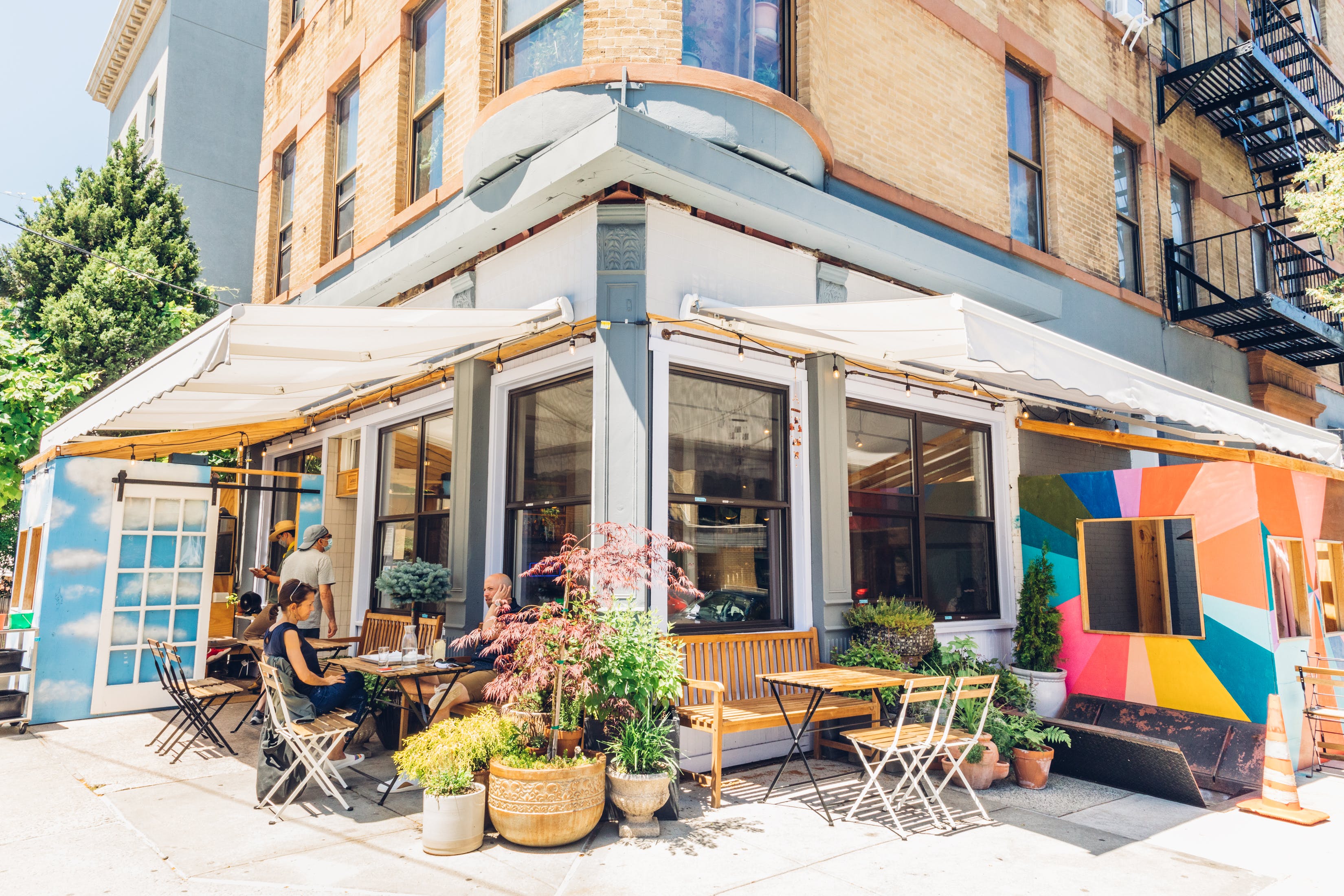 Leland's Eating and Drinking House is a comfortable restaurant divided into two dining areas. It is a small-scale restaurant serving wines, brunch, and dishes made with utmost care.
Why Should You Go Here For Brunch?
Here, do not miss the sourdough cinnamon bun. However, various options are available here, but one of my favorites is the Babka French toast. Leland's eating and drinking house offers both indoor and outdoor dining. For brunch, you can visit here on the weekends, and they also accept reservations.
What Can You Order For Yourself?
Leland's version of Granola is beyond your imagination, yes, Granola is quite boring to eat, but Lenland's version is different.
This vegan-friendly dish is a bowl with gluten-free oats, sunflower seeds, almonds, quinoa, pepitas, and vanilla-almond milk.
It is worth the try!
Address: 755 Dean Street, New York-11238
Brunch:
Sunday from 10 AM–4 PM and 5 PM–10 PM;
Wednesday & Thursday from 1 PM–4 PM and 5 PM–10 PM;
Friday from 1 PM–4 PM and 5 PM–11 PM; and
Saturday from 10 AM–4 PM and 5 PM–11 PM.
Kokomo
Kokomo Restaurant opened in 2020 as a Bohemian restaurant specializing in beverages and traditional Caribbean food. They have both indoor and outdoor dining.
Why Should You Go Here For Brunch?
Kokomo offers brunch every week, and it is not one, not two but for three days, on Fridays starting with a bottomless brunch.
However, on this specific day of the week, you have to pay only $ 60, and you can have a classy meal with the theme of the Caribbean and have endless mimosas for 90 minutes.
Kokomo takes great pride in providing a pleasant atmosphere with nostalgic vibes, an outdoor lounge, drinks, and calming music.
What Can You Order For Yourself?
The highly recommended dish is the Saltfih Avocado Toast with House Salad. End your meal with a delicious Rum Raisin Bread Pudding dessert with coconut whipped cream, vanilla ice cream, and caramel rum syrup.
For the Friday brunch, don't skip having the bottomless mimosas.
Address: 5 Kent Avenue, Brooklyn-11249
Brunch:
Tues-Thurs 4 PM-11 PM
Fri-Sun 11 AM -11 PM
Buttermilk Channel
Buttermilk serves substantial American comfort food and is famous because of its weekend brunch. The vibe of this restaurant is very aesthetic and calming.
Why Should You Go Here For Brunch?
If you want to spend some family time this weekend, Buttermilk Channel is the best option, serving Huntington's most delicious cheddar waffles, pancakes, and eggs.
Furthermore, to compliment your favorite dish, the specialized cocktails are prepared by artisan spirits. This restaurant has a mixture of vibes simultaneously: casual, modern, classic, and somewhat trendy.
What Can You Order For Yourself?
It is for those who like to eat fresh and baked kinds of food.
The recommendation from our side is the Fried chicken sandwich. It comes with freshly baked bread, cabbage slaw, pickles, and French fries. Other than that, you can also try the rib hash and pecan pie french toast.
Address: 524 Court Street, Brooklyn, NY 11231,
Brunch:
Monday- Closed
Tuesday- Sunday 11:30 AM–3 PM, 5–10 PM
Sister's
Sister's is a restaurant that has a modern and comfortable vibe. It looks much bigger than the actual size because of the white tiled floor and white bar, which helps to make the space look bigger. Sister is where you can get together with your family and friends.
Why Should You Go Here For Brunch?
Sisters is one of the cutest brunch restaurants in Brooklyn. Sister is a beautiful place to eat during daylight; the brunch is lovely because the skylight highlights the ambiance.
At Sisters, you can enjoy this delicious brunch, like egg sandwiches, toast, and burgers, that will delight your heart.
What Can You Order For Yourself?
You can have the Savory French Toast in this restaurant with scallions, pulled pork, cheddar, and fried egg. You can also try the mac and cheese with Vermont cheddar. Don't skip ordering a mimosa; you can also order two.
Address: 900 Fulton St, Brooklyn, NY 11238
Brunch:
Monday- Tuesday- 11AM - 12AM
Peaches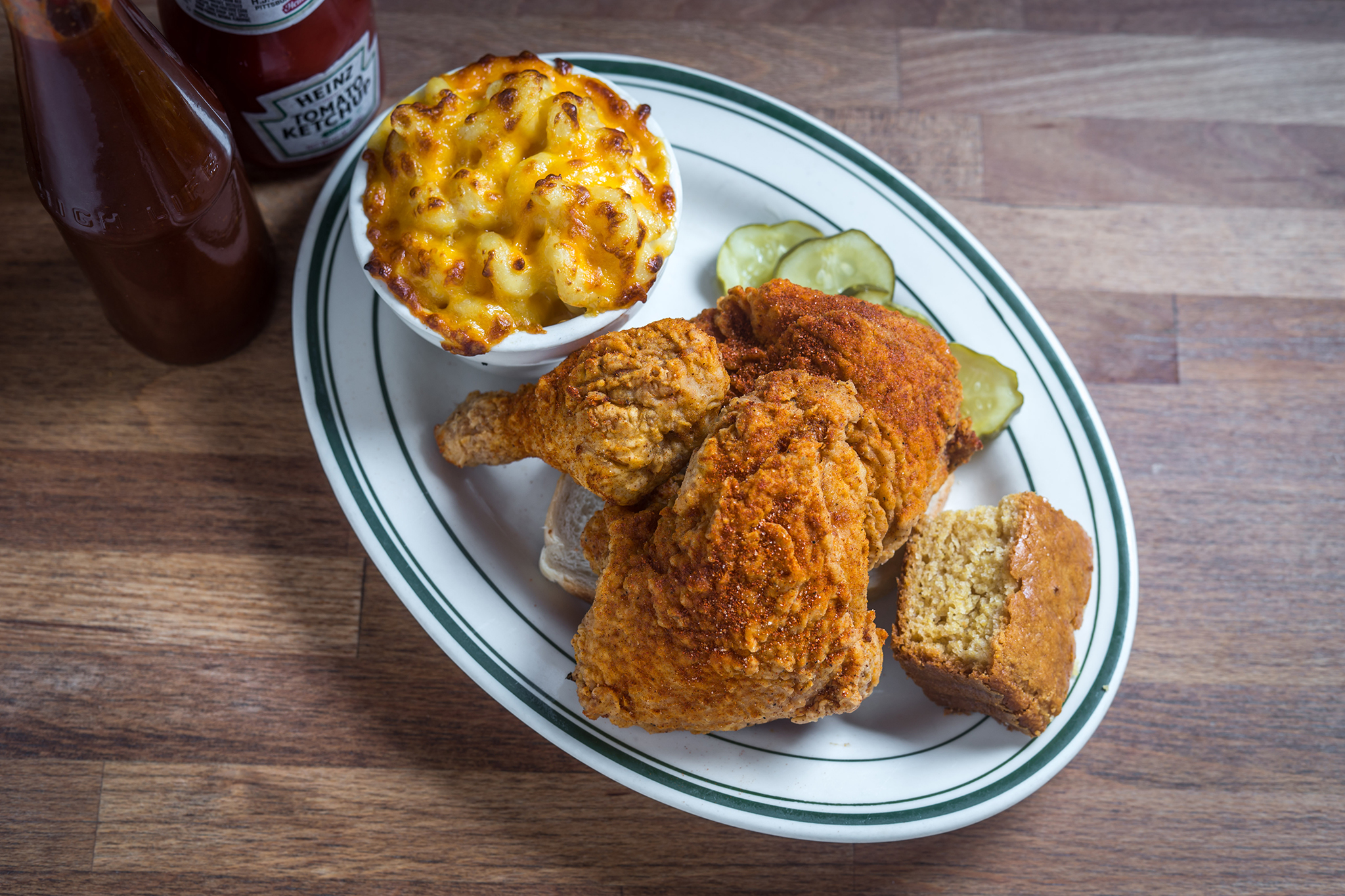 This restaurant is about comfort food brunch. Peaches is a historical brownstone neighbourhood restaurant that serves modernized southern comfort food.
Why Should You Go Here For Brunch?
This restaurant has recently developed on a busy morning; you will mostly see the rush of friends, couples, and families with their children.
The brunch begins a little later on Mondays and on Saturdays. According to the seasons, the brunch menu changes to make the best of the ready-available ingredients.
However, you will find some unique items on the menu, like scrambles, smoked fish, mains sandwiches, starters, and sides.
What Can You Order For Yourself?
If you want something out of the world, you should definitely try shrimp, grits, kale mushrooms, and chillies. You also have options; if you are likely to go for brunch, you can pick from the breakfast favourites and the southern comfort foods.
Another recommendation is to try the cornmeal-crusted catfish with salt and pepper.
Address: 393 Lewis Ave, Brooklyn-11233
Cross street: Between Decatur and MacDonough Sts
Brunch:
Tuesday–Sunday 11 AM–10 PM