10 Most Popular Brooklyn Dinner Spots To Visit
Some dinners are special, and we believe that you must agree. And thus, these dinners require a special setting that could match the occasion, your taste palette, cuisine choice, and budget. And well, finding a restaurant that has all of it in a busy city like Brooklyn with tons of dinner spots on the menu isn't a cakewalk.
If you are looking forward to planning a perfect evening concluded with the best dinner, don't worry; we have got you covered. Because after visiting a hundred eateries on the beautiful streets of Brooklyn and carefully checking everything they have to offer on their menu, service staff, and ambiance included, we have come up with a list of the 10 most popular Brooklyn Dinner Spots To Visit in 2023. So, you can have the perfect dinner in the perfect setting with a menu you can enjoy and have a meal memory you can put safely in the treasure chest named "my happiest and most satisfying meals."
So, without further ado, let's take a walk through the lane of the best Brooklyn dinner spots you must consider visiting this season. However, before that, check the factors we considered, and you must also consider them before choosing a final dinner spot to make your evening more special and memorable.
What To Consider While Picking Dinner Spots?
Food is not the only thing that contributes to your overall dining experience. There are some other factors too that together give you an ideal Dining experience. Let's go through these other factors to consider when visiting any Food Spot.
Location
Location is one of the prime things to consider when picking any restaurant. Choice of too much far or too much near restaurant should be avoided and always visit places with Great views. A place with scenic elements like water, hills, or any natural location always improves your dining experience and gives you a vibey atmosphere. Also, check the place's accessibility, visibility, and Parking facility.
Ambiance
The vibe you get from a place depends on its ambiance, so it's very important to choose it accordingly. For instance, if you are planning a dinner date for your partner, you will require a romantic ambiance to feel connected to each other. Also, distinct decor, attractive color theme, comfortable furniture, and appropriate music contribute to the right ambiance.
Cuisines
Every family member has a different taste and prefers different cuisines, so it's important to choose a place that offers a variety of Cuisines. Choosing a Multi-Cuisine Dinner spot will allow everybody to order their favorite and taste multiple cuisines under the same roof.
Budget
The budget is undeniably the first thing people should consider before visiting any restaurant or Dinner spot. Visiting a Good place for dinner is good, but spending an entire paycheck on it doesn't make sense. So always pick a restaurant that meets all your requirement but at affordable prices.
Privacy
Whenever you visit any restaurant or food spot, you want to spend quality time with the people you are going. So, choosing a place that looks for your Privacy and prioritizes privacy-related matters is important. Also, choose a place that takes Safeguard measures like Video Surveillance to care about your Privacy.
Hygiene Standards
Double-checking the Hygiene standards of a Dinner spot or a restaurant is extremely important, as no one wants to compromise on the quality of the food being served. Make sure the staff are neatly dressed and serving food with hygiene.
Great Service
It feels very bad when you plan dinner once in a while and get disappointed with the poor service by the staff. So it's good to first go through the ratings and reviews of the restaurant to find out the quality of service they serve.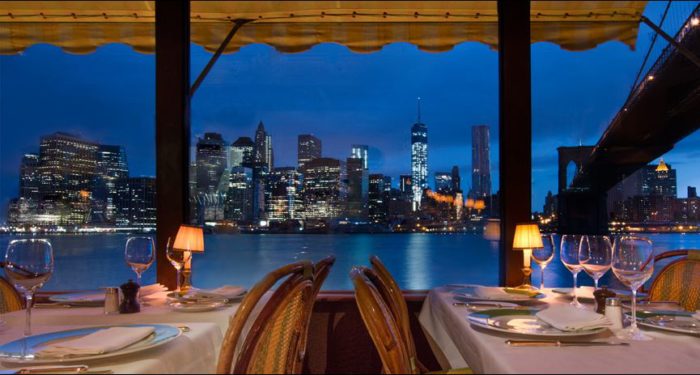 10 Popular Brooklyn Dinner Spots
If you are having difficulty choosing the right Dinner spot to have a delightful dinner with your family or friends, go through these 10 Popular Brooklyn Dinner Spots that you can consider visiting anytime soon.
Gus's Chop House
Gus's Chop House is one of the most fantastic family-friendly Dinner spots famous for its exotic menu. The place is bathed in aesthetic lighting, making it best to visit with your dates.
This chophouse serves amazing bo-bo chicken with its head and feet, and it is a must-try dish here. Apart from chicken, you can also ask for an off-menu burger with a patty with a blend of beef and pork.
Location- 215 Union St, Brooklyn, NY 11231
Timing- Monday to Saturday: 5:00 p.m - 10:00 p.m
Sunday: 4:00 p.m. - 9:00 p.m
Nota Bene
Nota Bene is one of the most authentic multi-cuisine restaurants in town, serving guests different tastes from different regions. With an aesthetic, cozy dining place and a menu around traditional Italian food, Georgian, and French twists, this place is nothing like any other restaurant you have visited before. It is a perfect place for a family Dinner, a friend's party, and a romantic date.
The staff here is very attentive and looks for your every small requirement. They take care of everything from guiding you to your seating to recommending the best dish for you. It is the best place to end your day with a delightful dinner.
Location- 282 Brighton Beach Ave, Brooklyn, NY 11235
Contact- 1-718-676-0297
Email- info@notabene-restaurant.com
Website- notabene-restaurant.com
Timing- Thursday to Saturday: 10 a.m - 2 a.m
Sunday to Wednesday: 10 a.m - 1.00 p.m
Slutty Vegan
Slutty Vegan is a meatless burger chain that is very popular in the area, and people are 24x7 lined up outside it to get their Vegan burgers. The goal of Slutty Vegan is to develop people's pleasure in eating vegan items. They promote veganism by offering their vegan Fries and Burgers. This place is a hyped destination that creates a party atmosphere for guests and is often amplified by standard celebrities.
Location- 690 Fulton St, Brooklyn, NY 11217
Timing- Tuesday to Thursday: 12.00 p.m - 9.00 p.m
Friday & Saturday: 12.00 p.m - 10.00 p.m
Monday & Sunday Closed
Sushi On Me
Sushi On Me is an amazingly vibey Thai Japanese restaurant famous for its Japanese menu served with Thai curries. Sashimi and Sushi are the two most recommendable dishes here. This place is decorated with dim lighting to set an aesthetic tone for a delightful dinner. Also, the staff here is cool and skilled in playing with full glasses of wine in the bar's corner.
Besides delicious food and cool staff, its ambiance is also worth mentioning. They have DJ facilities in their place. And the visitors should also keep in mind that here they are allowed to deal with cash only.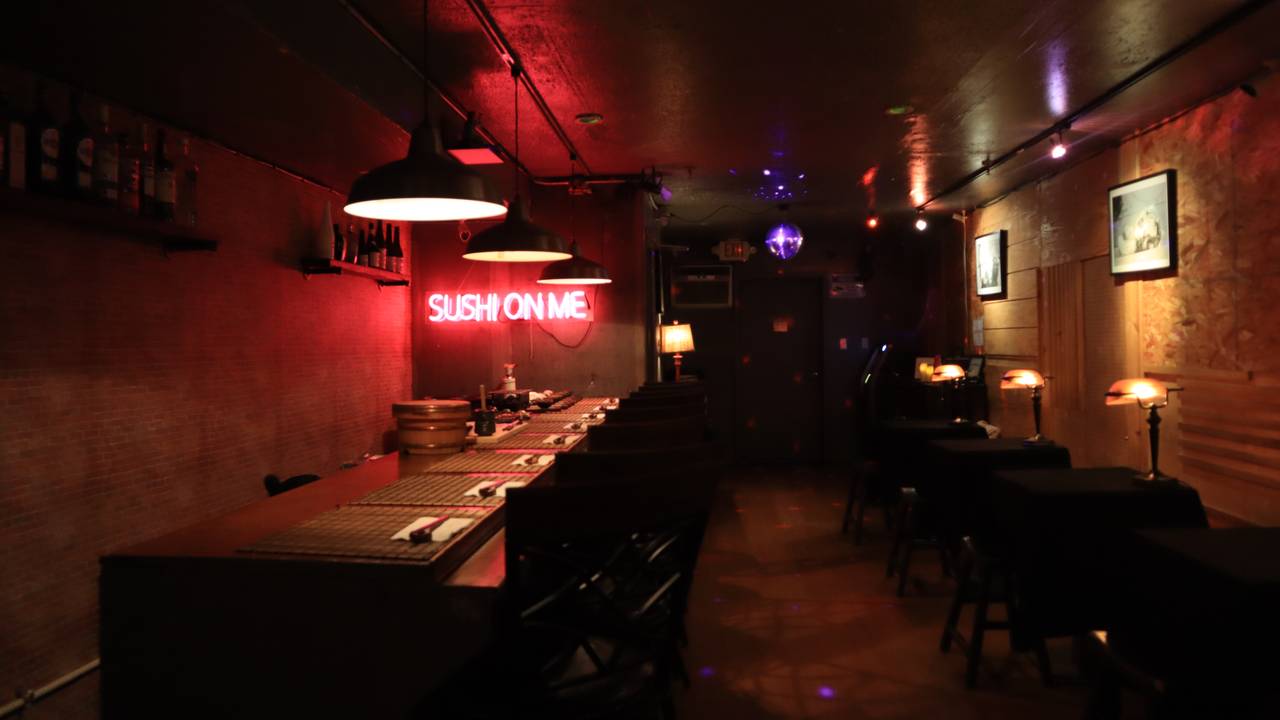 Location- 742 Driggs Ave, Brooklyn, NY 11211
Timing- Tuesday to Thursday: 12.00 p.m - 9.00 p.m
Friday & Saturday: 12.00 p.m - 10.00 p.m
Bar Americano
Bar Americano is a tiny Greenpoint spot inspired by the Aperitivo bars of Northern Italy and Spain. This restaurant is beautifully decorated with Brass accents, Stucco walls, and several leather booths. The place serves various food and is known for its popular apple-made drink Appletini. They serve a house Margarita and Burger along with anchovies and an extensive European wine collection. It is one of the best spots to plan candlelight dinner dates with your partner.
Location- 180 Franklin St, Brooklyn, NY 11222
Timing- Monday to Sunday: 5.00 p.m - 12.00 a.m
Cafe Spaghetti
Cafe Spaghetti is one of the famous Italian restaurants where you can eat your favorite SpaghettI. The place serves hot handmade pasta covered with simple tomato-and-basil sauce on it. This cafe offers a vast menu of high-quality, delicious Italian food.
Apart from the food, the vibe of this place is also very pleasant. The super cute yard of this place is a seating area filled with tiny round tables with umbrellas on top. In the breezy summertime, you can enjoy its famous spaghetti, Tiramisu, and Octopus Salad.
Location- 126 Union St, Brooklyn, NY 11231
Timing- Tuesday to Friday: 8.00 a.m - 10.00 p.m
Saturday & Sunday: 9.00 a.m - 9.00 p.m
Monday: closed
Eyval
Eyval is one of the best new Dinner spots that offer guests an amazing menu and exotic drinks. The food they serve is less in quantity but high quality. This restaurant has great energy, perfect for a relaxed night out with your friend's group to eat the best Persian food in Brooklyn. Fava Bean Borani and Potato Tahdig are the basic but must-try foods here.
Location- 25 Bogart St, Brooklyn, NY 11206
Timing- Tuesday to Sunday: 6.00 a.m - 10.00 p.m
Monday: Closed
Leland Eating and Drinking House
Leland Eating and Drinking House is one of the most comfortable dining areas decorated with white Oak. They offer an extensive menu consisting of all local food and natural wines. The Smoked trout rillette, Mussels, crispy pollock fritters, Grilled Pork Chop, and Fish are some of the must-try dishes here. Apart from food, they also offer guests a decent collection of wines, Beers, and other mocktails.
Location- 755 Dean Street, New York 11238
Timing- Wednesday to Friday: 1.00 p.m - 10.00 p.m
Saturday & Sunday: 10.00 a.m - 10.00 p.m
Monday & Tuesday Closed
Paulie Gee's Slice Shop
There is nothing more popular than a pizza in New York's food guide. Everyone craves pizza and hence always browses for the best place to have it. Paulie Gee's Slice Shop offers one of the best vegan and vegetarian Pizza slices in Brooklyn that you can have sitting down there or grab to go. If you are really a Pizza lover, this is worth visiting a place that won't get you disappointed. Their pizzas are topped with Italian tomatoes, Parmigiano-Reggiano, Berkshire soppressata piccante, and Mike's Hot Honey.
Location- 110 Franklin St, New York 11222
Timing- Monday to Sunday: 11.30 a.m - 10.00 p.m
Ugly Baby
If you are fond of Thai food, Ugly Baby is a place must visit. It is one tiny, unpretentious, and colorful restaurant that pulls inspiration from various areas of Thailand. Its interior space is quite small and cozy, perfect for small group dinners. It is the best place to invite your friends to hang out and to try a little bit of everything with them. The food they serve is very complex and great for spice lovers. Yum Tua Pa, Nuey Foy, and Peek Gai are some of the must-try dishes of this place.
Location- 110 Franklin St, New York 11222
Timing- Monday to Friday: 5.00 p.m - 10.30 p.m
Saturday & Sunday: 12.00 p.m - 10.30 p.m