10 Best Restaurants With Good Appetizers In Brooklyn, NY
Appetizers set the mood for the whole meal, and if you are on a lunch or dinner whose conclusion is important to you, the mood for the meal must sit right. No matter if it's your first date or a business meeting that's happening over lunch or dinner, good appetizers work as a great deal breaker. Wondering how? Well, first, they give something good and common to talk about "the taste of the appetizers." However, badly served or not-so-appealing appetizers can put the person in a negative mood that won't serve well to your purpose for having the meal together.
Well, now that you know how important it is to pick a place that serves great appetizers, you should know it isn't easy to find one. If there were a menu containing all the eating spots in Brooklyn, it would compile to be a book thicker and heavier than what you are anticipating it to be. So, we figured out you might use some help picking up the best appetizers serving restaurants in Brooklyn.
So without further ado, let's jump on the train named "Finding the best spots to have appetizers in Brooklyn" with us.
Peter Luger
Reviewed by the many big names in the US, Peter Luger Steak House remains a consistent top performer, even in the case of appetizers. The restaurant, which was founded in 1887, is still a name that people love visiting. The restaurant's name, primarily, is for the popular steaks they offer in a German-style beer hall.
The place may feel a bit pricey, but it's definitely worth every penny that you spend here. It may not look much, but someone who likes having a cozy experience would love the aesthetics at Peter Luger.
Must Try Dishes: Sliced Tomatoes & Onions With Luger's Own Sauce, Luger's Sizzling Bacon, Creamed Spinach, and Chocolate Mousse
Address: 178 Broadway Brooklyn, NY, 11211
Timings: 11:45 am - 9:30 pm (Daily)
Nota Bene
If you are looking for some of the best multicuisine restaurants in Brooklyn with a vast menu for appetizers, Nota Bene would be a great choice. You can get a wide collection of dishes with a lot of options in Italian, Georgian, and French dishes. All the dishes are unique, and the appetizer menu is well-stuffed.
Get a royal dining experience at pocket-friendly prices with Nota Bene. Some of the dishes you can try from the appetizers menu are the Pickle platter, Pkhali platter, Nadughi with mint, and Kholodets.
Must Try Dishes: Cheese platter, Meat platter, Royal Sturgeon, Ghomi, and Spaghetti with Shrimp
Address: 282 Brighton Beach Ave, Brooklyn, NY 11235
Contact: info@notabene-restaurant.com or 1-718-676-0297
Timings: 10 am - 2 pm (Thursday to Saturday)
10 am - 1 pm (Sunday to Wednesday)
Website: https://notabene-restaurant.com/
Tanoreen
Tanoreen started way back in the 90s and is still among people's favorites. Its iconic Palestinian cooking is well received to date, thus making it one of the best appetizing restaurants. Also, the authentic Palestinian dishes and two types of appetizer menu (cold & hot appetizers) give it a unique touch that stands out. The dishes at Tanoreen are a perfect display of the passion and innovation of the chefs.
With its average-priced menu and quality service, there is not even a hint of doubt that it is one of the best in Brooklyn. So, check out their wide range of appetizers and perfect desserts that you can never get enough of and will make you crave more.
Must Try Dishes: Mhammara, Falafel, Shulbato, Mushakhan, Mediterranean grilled chicken, Fetti, Shepherds Pie, and Lamb Chops
Address: 7523, 3rd Ave Brooklyn, NY, 11209
Timings: 12 pm -10 pm (Tuesday - Sunday)
Iron Chef House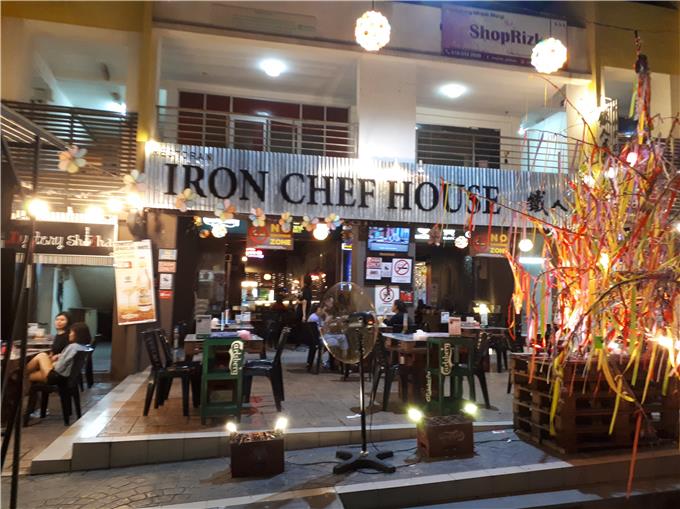 With its Japanese Style Sushi appetizers, Iron Chef House is home to modern Japanese cuisine in Brooklyn. It has been in existence for almost two decades and is a cornerstone in the Brooklyn community.
The restaurant offers a sumptuous combination of modern and classic Japanese dishes to provide you with an unforgettable dining experience. So, it won't be wrong to say that people like it for its premium quality service. Moreover, they believe that three factors work out for their restaurant, which are high quality, fresh ingredients, and customer satisfaction.
Visit the restaurant and get a firsthand experience of unique Japanese dishes and first-class customer service. Also, you will get all that at very reasonable prices, so it'd be a win-win for you.
Must Try Dishes: Jalapeno yellow tail, Tuna tataki, Monster, Iron chef spicy mix, Haru maki, Hamachi kama, Crispy duck spring roll
Address: 92 Clark Street, Brooklyn, NY - 11201
Timings: 11 am - 2:45 pm (Monday - Friday: Lunch)
4:30 pm - 11 pm (Monday - Friday: Dinner)
12:45 pm - 11:30 pm (Saturday: Dinner)
3:30 pm - 10:30 pm (Sunday: Dinner)
Sea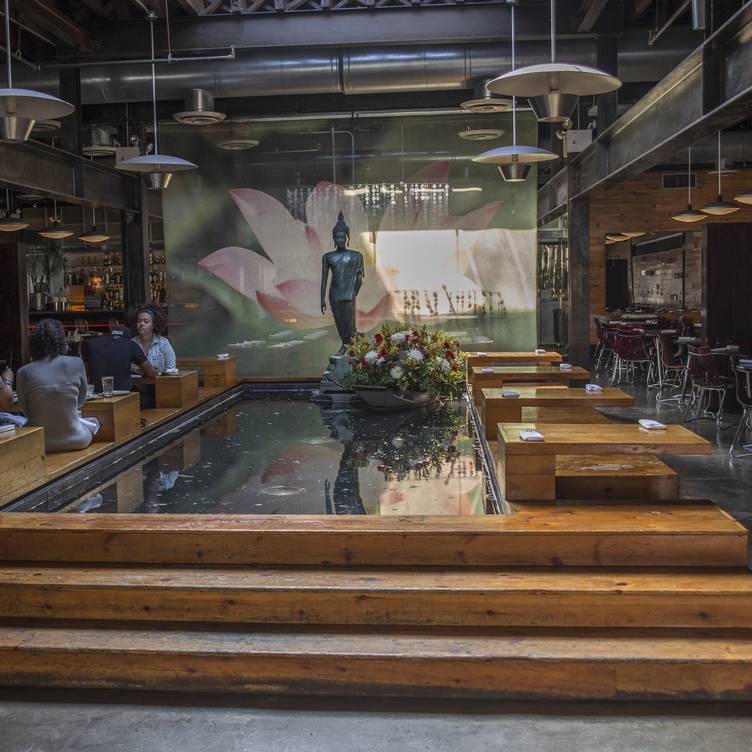 Sea Restaurant in Brooklyn is the culmination of some of the finest dishes from South East Asia. The restaurant has some of the best decor, which will make you feel at ease while being breathtaking at the same time. It is also a great location for those who are looking to enjoy the scenery and click great pictures. Experience exquisite Thai and Japanese cuisine from some of the best chefs.
If you are looking for a great South East Asian restaurant in New York, then Sea should be the first choice. The restaurant is very popular so we'd suggest that you book your reservations in advance. Although one thing I can say is you will love the place if you enjoy Asian cuisine.
Must Try Dishes: Drunk man noodles, Martini shrimp, Stuffed crab rangoon, Andaman dumpling, Spicy chicken basil wrap, Basil duck, Royal pork red curry, and Salmon dark sea
Address: 114 North 6th Street, New York, 11211
Timings: 11:30 am - 11:15 pm (Monday to Friday)
12:30 pm - 12:15 am (Saturday)
12:30 pm - 11:15 pm (Sunday)
Sofreh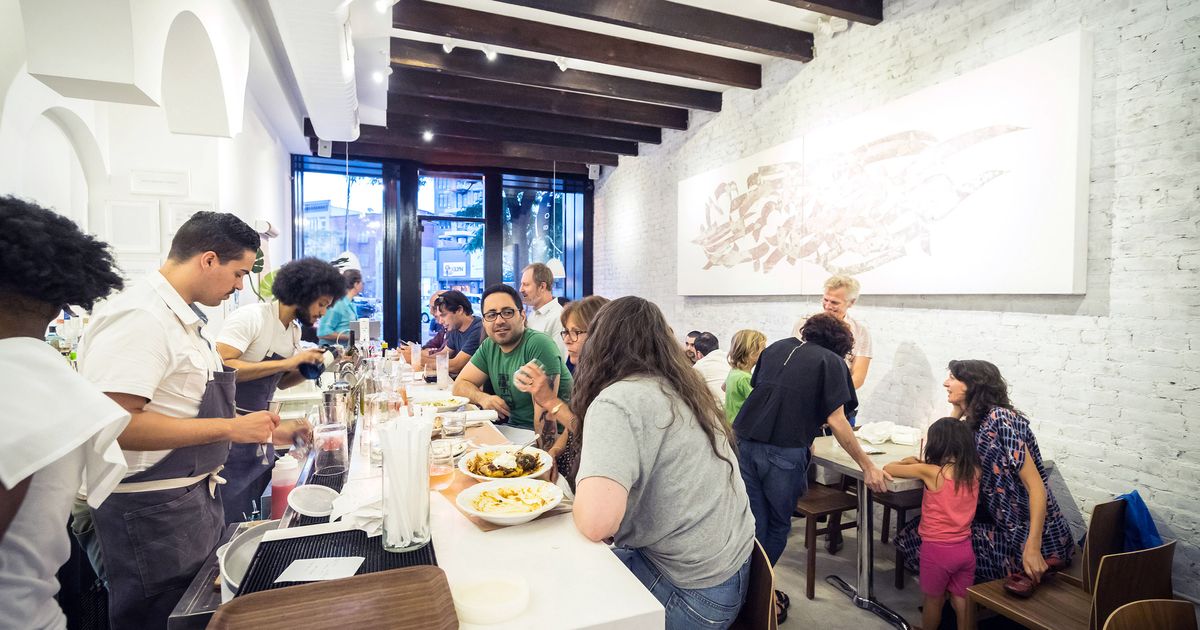 If you are looking for simple, authentic dishes which are crafted to perfection and are delicious, visit Sofreh restaurant now. The restaurant makes its name among the few restaurants with Iranian cuisine which actually taste great. Also, the place's minimalist setting with the garden, dining space, and colors give it an authentic Persian vibe. The atmosphere will also feel very welcoming and cozy to anyone who visits the place.
With its carefully crafted menu, displaying a sort of personal touch, you would never be able to guess that the owner of the restaurant never worked in a restaurant before starting this restaurant. Get a taste of simple home cooking away from home with Sofreh.
Must Try Dishes: Catch of the day, Lamb Shank, Saffron Rice, Shallots & Yogurt, Grilled asparagus, Persian herb & noodle stew, and Cardamom Rose cake.
Address: 75 Saint Marks Avenue, Brooklyn, NY 11217
Timings: 5:30 pm - 9:30 pm (Tuesday to Sunday)
Gage & Tollner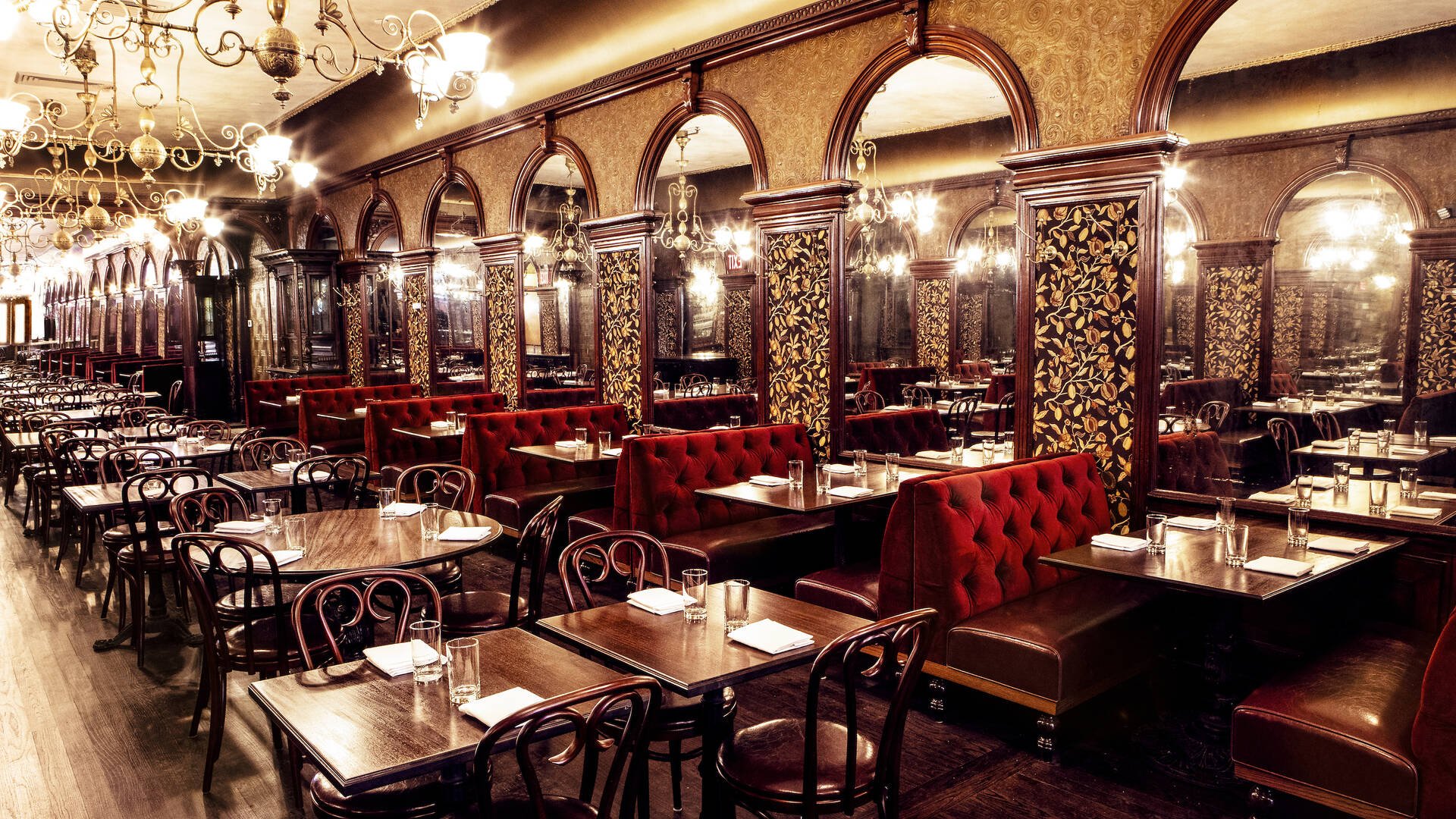 Gage & Tollner is among the most beautiful restaurants you can find in Brooklyn. The restaurant also has a majestic appeal with every finishing detail. However, it is not just the restaurant's appeal but the appeal and taste of its dishes that make this restaurant great. The prices on their menu are fairly adequate as well. Moreover, you can choose from any of its steaks or chops, and you will not be disappointed.
The dishes have a lot of variety, and you can get a classy feel with the drinks they offer. The appetizer menu is pretty great as well, and you should definitely give those a try.
Must Try Dishes: Crispy hen of the woods, Clams Kimsino, Brussels sprouts, creamed spinach, Dry aged beef tartare, and Chicken liver pate
Address: 372 Fulton St., Brooklyn, NY 11201
Timings: 5 pm - 10 pm (Monday to Thursday)
11:30 am - 10 pm (Friday to Sunday)
Tabare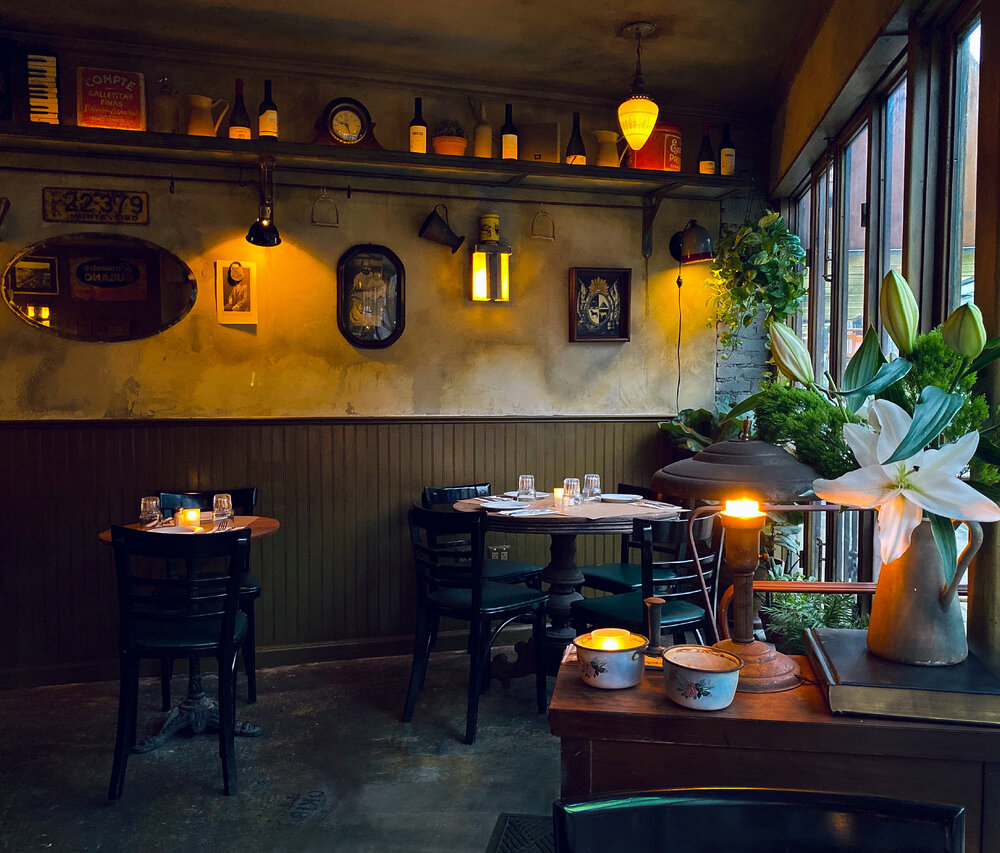 Tabare is one of the few Uruguayan restaurants with a great ambiance and a very cozy environment. The quality of food is similar to home-cooked food, which feels amazing in the casual vibe of this restaurant. Furthermore, its location makes it very easily accessible in a very warm surroundings.
Their huge chivito completo is a dish that you must try whenever you visit the restaurant. Apart from that, there are various Uruguayan dishes that you can try, which is a rarity in Brooklyn. Overall, the dishes may not feel like the best, but the appetizers are certainly worth visiting the restaurant for.
Must Try Dishes: Chivito completo, Croston con morcilla, Ensalada de kale, Caserola de pulpo & habas, Pate casero, Churrasco, and Chorizo adobado
Address: 221 S 1st St, Brooklyn, NY 11211
Timings: 5 pm - 11 pm (Monday to Thursday)
5 pm - 12 am (Friday)
12 pm - 4 pm (Saturday and Sunday brunch) and 5 pm - 12 am (Saturday dinner)
5 pm - 11 pm (Sunday dinner)
Bunna Cafe
What if we told you that there is a restaurant with great food that can fill your empty stomach and also those who visit with you without weighing heavily on your pockets? Well, Bunna Cafe is certainly among those restaurants that do not just offer good food but also affordable prices. Besides, we are talking about good appetizer restaurants. So why not add a restaurant whose main dishes cost the same as appetizers someplace else?
The place offers a warm and cozy environment where you will almost feel like you are eating at home. There is also a bar and an area at the center where you can witness Ethiopian coffee ceremonies and live music. Get tasty and healthy meals at your convenience at Bunna Cafe.
Must Try Dishes: Butecha Salada, Kategna, Lentil sambuca, Baklaud, Fetira, and Duba firfir
Address: 1084 Flushing Avenue Brooklyn
Timings: 12 pm - 10 pm (Sunday to Thursday)
12 pm - 11 pm (Friday, Saturday)
12 pm - 5 pm (Saturday and Sunday Brunch)
Taj Mahal
Indian cuisine has been getting very popular these days, and with so many Indian restaurants popping up, it is hard to choose. With the Taj Mahal restaurant, the choice becomes easier. It's also no wonder that it is a nice attraction, given the name's reference to a World's Wonder. Here, you will find delicious Indian dishes with authentic Indian taste. It is especially great for someone who is looking to taste Indian cuisine for the first time.
You can also get a good taste of the traditional Indian appetizers in this restaurant in a wide variety. The restaurant has exotic dishes and will not feel heavy on your pockets.
Must Try Dishes: Samosa, Fried Shrimp, Chicken pakora, Taj Mahal liver, Aloo paratha, Mughlai paratha, Chicken shahi kurma, Chicken tikka masala, Shrimp tandoori masala, Tandoori mixed grill, Gulab jamun, and Kulfi.
Address: 7315 3rd Ave, Brooklyn, NY 11209
Timings: Noon to 11 pm (7 days open)