Explore The Best Spaghetti Restaurant In Brooklyn: Nota Bene
Do you love spaghetti? If so, you must have a special place in your heart for this dish. Spaghetti has been one of the most popular dishes in the world for many years. Whether it is Carbonara, Napolitana, or Spaghetti with a mixture of spices, it all adds to the finger-licking flavor. Not only is it simple and delicious, but it is also very healthy. In addition, it is the perfect meal whether you have a date, a small party, or just a get-together with friends.
If you love to try different types of spaghetti, then you have come to the right place! Brooklyn has served New York's best traditional and cultural cuisines for decades. In addition to being one of the city's most beautiful boroughs, it is also home to some of the best restaurants.
Here you will find the best place to have spaghetti in Brooklyn. But before that, let's dwell on a few food facts about spaghetti.
What Is Spaghetti?
Spaghetti is a type of straight, round, and thin pasta. It is pasta that originated in Italy and is very versatile and popular. It has a thin consistency and is commonly served with crunchy vegetables and salads.
How Do People Usually Eat Spaghetti?
Spaghetti is served with sauces like carbonara, classic ragù, and fish sauce. Moreover, the side dish always adds flavor and texture to spaghetti. Garlic bread, breadsticks, and rolls are mostly served as a side dish with spaghetti to enhance its taste.
The Best Spaghetti Restaurant In Brooklyn
Nota Bene is one of the most authentic Spaghetti Restaurants in Brooklyn. It is the go-to place for locals and visitors. It offers various spaghetti dishes that are all made with authentic ingredients.
The spaghetti varieties they serve are Spaghetti Carbonara, Napolitana, and With Shrimp. Nota Bene isn't just about the food, though. It's also about the ambiance, the professional staff, and more!
The ambiance at Nota Bene is pleasant and calming. Even the professional staff at Nota Bene make every visit memorable. They will welcome you with a big smile when you enter through the doors and navigate you to your table. Additionally, you have the option to book a table in advance.
So, without further ado, let's dig into the spaghetti menu of Nota Bene.
Best Spaghetti Dishes Of Nota Bene
Here are some of the mouth-watering spaghetti dishes that you can try at Nota Bene:
Spaghetti Carbonara
Spaghetti Carbonara is one of the most famous pasta dishes in Rome. It is all about a bowl of rich, silky, and perfectly salted dishes. It has a thicker version of sheep's milk cheese, soft eggs, and spaghetti. The chef at Notabene prepares this dish with a few ingredients, eggs, Pecorino Romano cheese, black pepper, guanciale (cured pork jowls), and of course, pasta and water. Their spaghetti carbonara differs from other dishes because they use cheese, eggs, black pepper, and a rich, creamy sauce. If you are looking to spend a dinner night with your family and friends, this dish is one of the simple dinners that are perfect for go-to weeknights or weekends.
Spaghetti Napolitana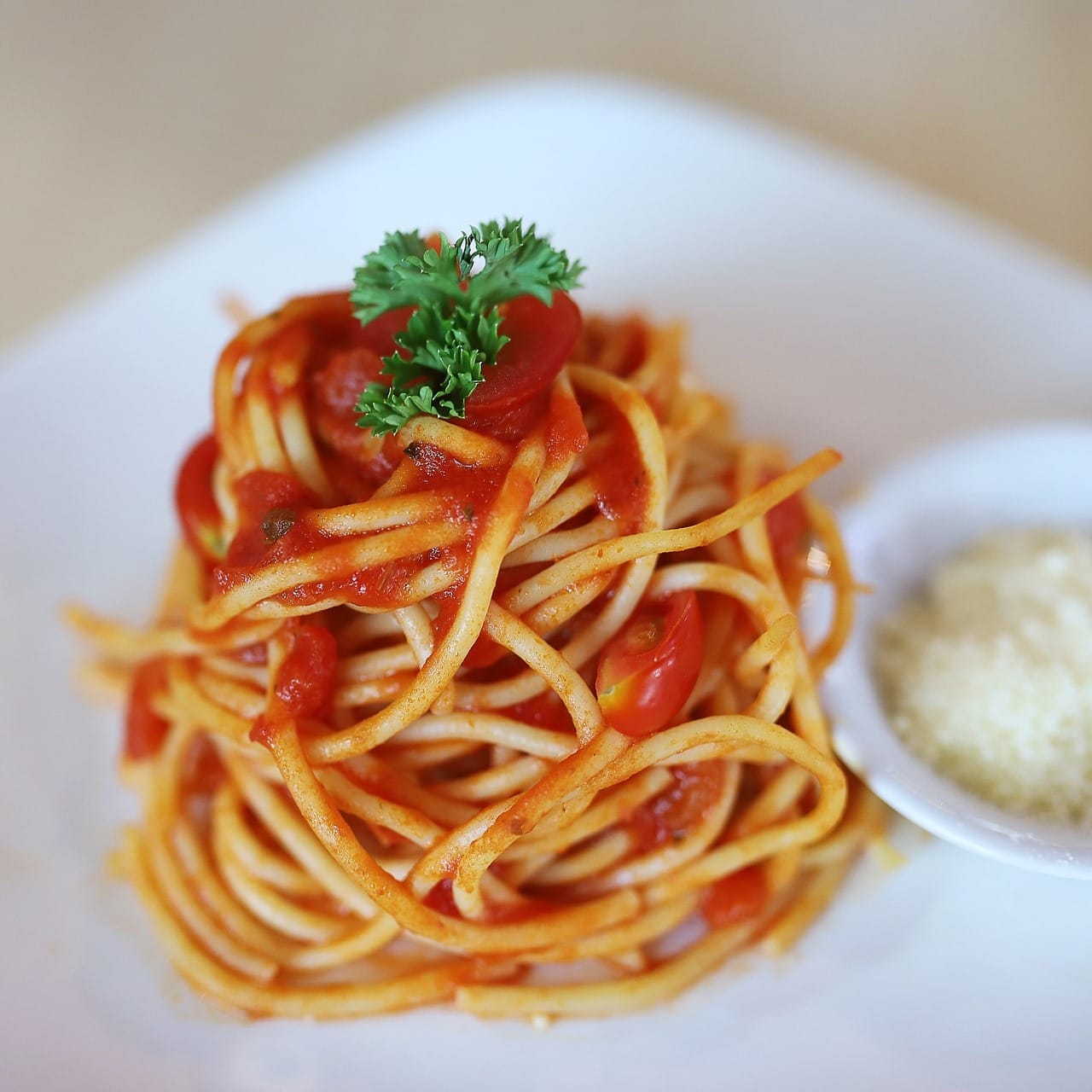 If you are a spaghetti lover looking for a vegan-friendly dish, this dish will serve you right! Spaghetti Napolitana is an Italian pasta dish made with a simple tomato sauce. This quick dish can be on the table in less than 30 minutes. It is best for the weeknight family meal and is inexpensive. Moreover, the chef make this dish with good quality tinned finely-chopped canned tomatoes cooked in olive oil and lots of diced onions. The diced onions provide natural sugar and give out the sweetness, making the tomato sauce more delicious. In the final stage, they toss the pasta with the Napolitana sauce, black pepper, salt, and lots of grated parmesan cheese and fresh basil for those who enjoy a bit of spice.
Spaghetti W Shrimps
Don't know what to try on a special date? Stop thinking the answer is in front of you. Spaghetti W Shrimps is a quick, easy, and healthy choice. It is colorful, and the chef makes this dish with plenty of garlicky flavors, served with white wine that complements the sweet shrimp. To make it more flavorful, they serve this with a green salad and a chunk of crusty bread to sop up any leftover sauce.
Why Choose Nota Bene?
If you're looking for the best spaghetti restaurant in Brooklyn, you've come to the right place! Nota Bene offers a variety of your favorite Spaghetti dishes. But what makes Nota Bene stand out? Let's look at some of the other things that make us unique.
Service At Your Convenience
The professional staff is always calm and courteous and welcomes you with a warm smile.
High-Quality Food With The Best Ambiance
The main factor influencing the guests' experience is the ambiance and the quality of the food you will receive.
Calming Surroundings
In addition to the food, you also get an excellent atmosphere. From the all-white color scheme to the decor and the lighting, the ambiance is aesthetically pleasing enough to attract visitors to our restaurant.
Affordable
When you go to any restaurant, the first thing that comes to mind is how much it costs or if it's worth your money. At Nota Bene, you won't have to worry about spending much money on delicious food and a beautiful ambiance. Here, you'll enjoy the best Italian, Georgian, and French cuisine at affordable prices.
Best Customer Service
Their customer service is also excellent. You can reach out to their serving staff for questions, feedback, or ideas.
If the food mentioned above fascinates you, visit Nota Bene and experience the delicious Spaghetti dishes. The place is waiting for you with a stunning all-white seating arrangement for your visit and various Spaghetti dishes. To book your seat at Nota Bene, call 1-718-636-0297 or email at nota bene-foodservice.com.