10 Best Italian Restaurants In Brighton Beach (2023)
Imagine you are sitting in a restaurant, and on your table, there is a plate of cheesy pasta, crunchy pizza, and saucy lasagna, and all are topped with some fresh oregano to make it even spicier. Now that you've imagined it, you probably think, "I want to eat this right now!" And why not? Italian food is a treat to the tastebuds. Italian cuisine is one of the most popular cuisines in the world, and it has always been a go-to comfort food for us all.
However, with many restaurants serving their takes on popular Italian dishes, finding authentic Italian delicacies is becoming harder. It's not that we are not a fan of fusions, but we love dishes that don't completely change the flavors we expect from a certain Italian dish.
If you are a fan of Italian cuisine, Brighton Beach in Brooklyn is the perfect destination for you! The place is known for its iconic Palace Pier and stunning seaside. Moreover, it is also known for its best Italian restaurants.
Wondering which Italian restaurants are super worthy to give a try in Brighton Beach? Well, we have compiled a list for you of our personal favorites after visiting, dining at, and carefully analyzing the ambiance of almost every Italian restaurant in Brighton Beach.
Best Italian Restaurants In Brighton Beach
Below, we have compiled a list of the best Italian restaurants in Brighton Beach.
Nota Bene
Are you looking for an authentic Italian restaurant in Brighton Beach, Brooklyn? Nota Bene is the place to go! It serves the best classic Italian dishes, from pasta to pizza. The Italian dishes they serve are made with authentic and fresh ingredients. The varieties they serve in pasta are Spaghetti Bolognese, Spaghetti Napoletana and Spaghetti W Shrimps. Varieties you will get in pizza are Pepperoni pizza, NY pizza, pizza Burrata and Smoked Salmon pizza.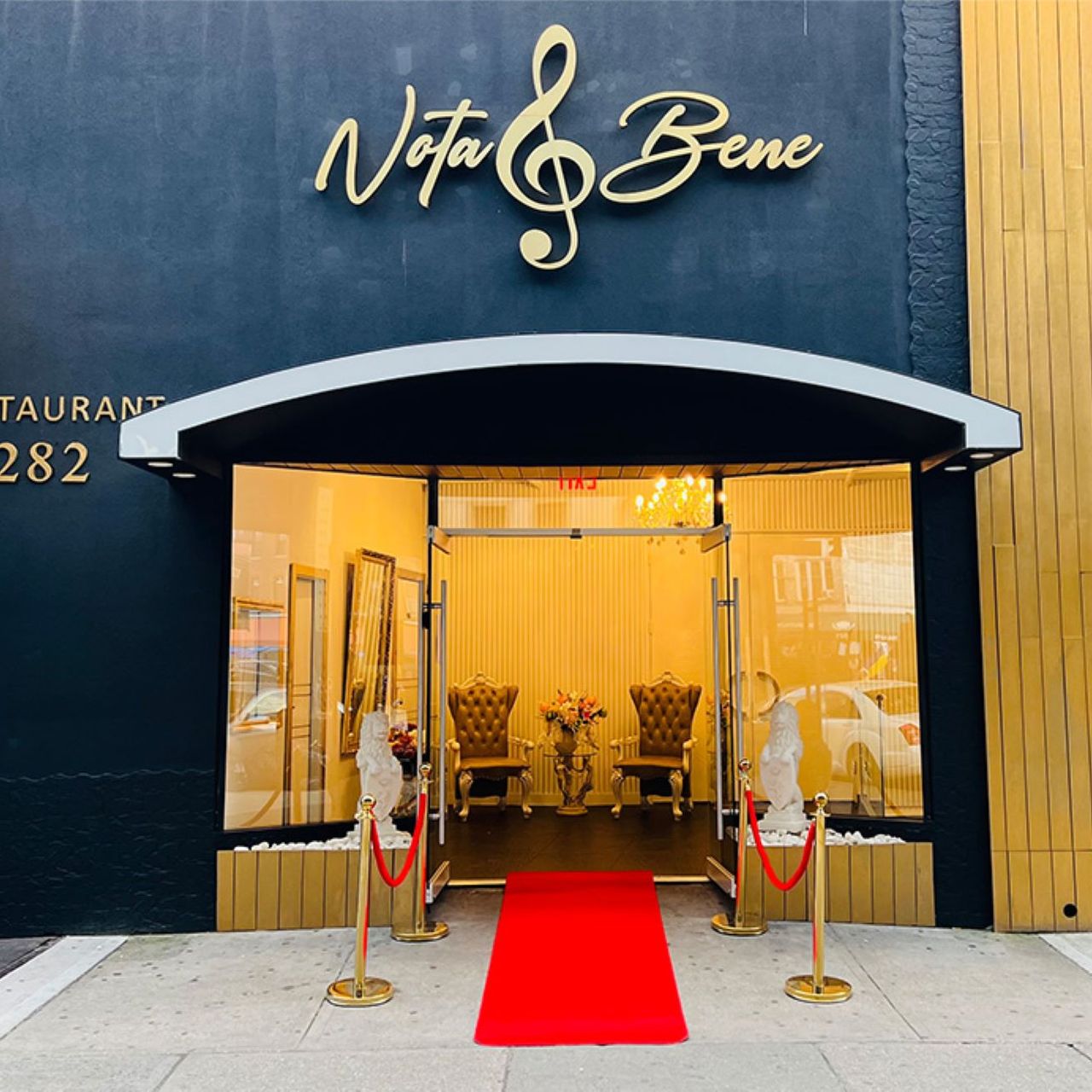 Moreover, the ambiance theme is all-white, providing a pleasant atmosphere and making you feel at home. Along with the food and ambiance, the staff is highly professional, welcoming every guest with a warm smile and providing a memorable experience. Nota Bene has something for everyone, whether you are coming with your friends, family or a special person. Book your table now and enjoy the finest Italian dishes like never before.
Address- 282 Brighton Beach Ave, Brooklyn, NY 11235
Contact- 1-718-676-0297
Timings- Friday to Sunday: 10 AM–11 PM
Monday to Thursday: 10 AM–10 PM
Email- info@notabene-restaurant.com
Website- https://notabene-restaurant.com
Olive Garden Italian Restaurant
Are you looking for a delicious lunch during work hours? Look no further than Olive Garden Italian Restaurant. It was founded in 1982 and is dedicated to serving a warm and inviting dining experience that welcomes everyone who walks through its doors. It is also known for serving the best Italian cuisine.
Moreover, the best part of this restaurant is that you can enjoy the perfectly cooked Laing, Fettuccine Alfredo, and Shrimp Scampi served with Breadsticks and Salad you love. They also have a special menu for kids and those who eat gluten-free. The staff is very professional, showing how much they care about their customers. You can have a great meal here at reasonable prices. The ambiance is pleasant and decorated with modern decor that you will like. Additionally, you can also take out food to enjoy at home.
Address- 505 Gateway Dr, Brooklyn, NY 11239-2801
Timings- Monday to Thursday- 11:00 AM- 10:00 PM
Friday and Saturday- 11:00 AM - 11:00 PM
Sunday- 11:00 AM - 10:00 PM
Michael's of Brooklyn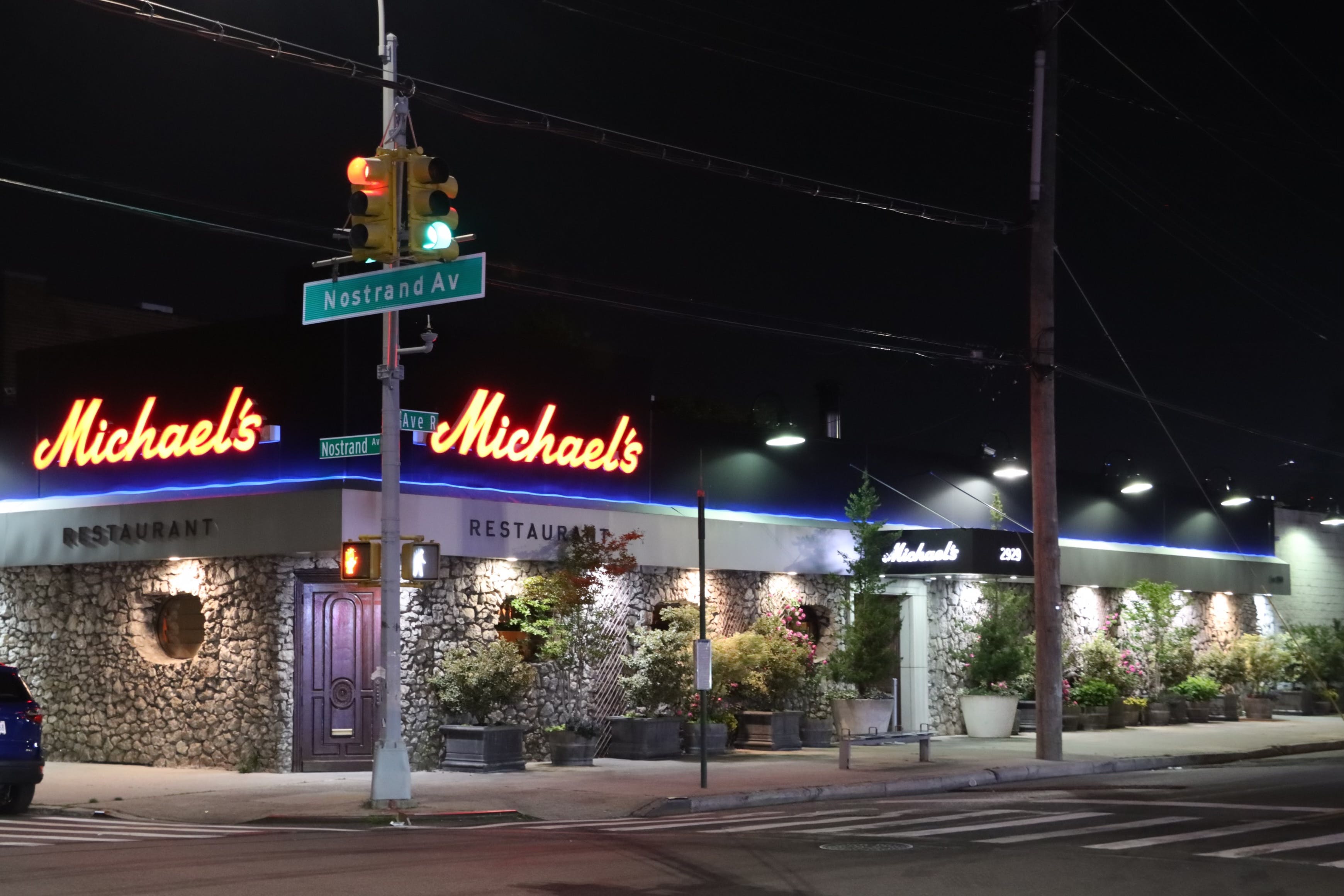 Michael's restaurant is an ideal place if you are looking for an Italian-American restaurant in Brighton Beach! This restaurant provides a family touch to their customers, and they only use fresh ingredients in their dishes- including fresh tomatoes and olive oil from Italy.
Every meal is served in generous portions, enough so that there is no need to have a second meal. The best you can try here is the Chicken Francaise, as it comes in a good portion (garnished with a slice of lemon and sprinkled with parsley). Moreover, this dish has a separate plate of hot vegetables-creamy from the inside and crunchy from the outside, plus chunks of carrots. Customers visit this restaurant from near and far to enjoy the generation-old family recipes. After just one visit, you'll realize that's what makes third-generation restaurants so popular, but one bite isn't enough.
Address- 2929 Avenue R. Brooklyn, New York 11229
Timings- Tuesday to Sunday- 12 PM to 10 PM
Monday- closed
Anthony's Place
Anthony has been serving for over 60 years, and it is a favorite spot of locals. Not only does it serve authentic Italian cuisine, but it also serves some of the best modern dishes from all over Europe every week.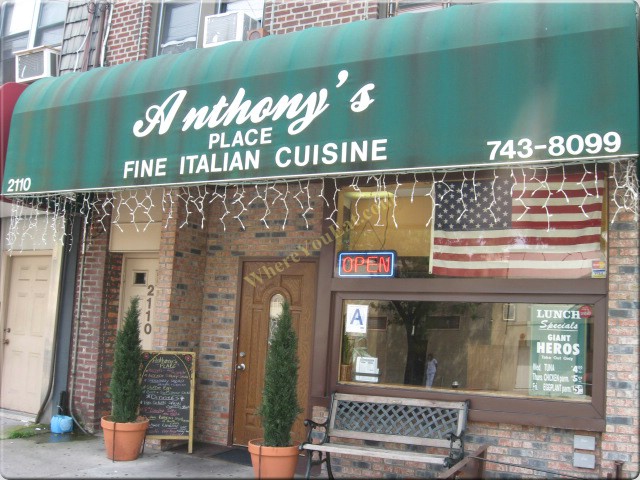 The highlight of this place is delicious grilled meats, fresh seafood, and extensive and excellent pasta dishes. The staff here is very professional and friendly. Moreover, they will greet you with a big smile and take you to your table. You can try different dishes here, such as Thai cuisine, which is famous for the light preparation and strong aromatic elements with a spicy edge, Kai Yang Tou is a roasted chicken stuffed with garlic, pepper, and cilantro, and Khao Man Som Tam, which is spiced with green papaya Salad.
Address- 2812 Ocean Ave, Brooklyn, NY 11229, USA
Contact- (718) 743-8099
Timings- Mon, Tue, & Wed- Closed
Thursday & Sunday- 4 to 9 PM
Friday & Saturday - 5 to 10 PM
Saturday - 5 to 10 PM
Positano
Are you looking for a place for a family dinner or a special occasion? Positano is the place for you! This Italian restaurant is located near Brighton Beach. They serve delicious American food, like dry-aged steak, seafood, homemade pasta, and much more! Try their seafood black & white linguine - it's super yummy! Moreover, with the ambiance, you will feel like you are on vacation with all the fantastic and chill vibes. In addition, they have indoor and outdoor dining, so you can pick whatever you like!
Address- 10018 4th Ave, Brooklyn, NY 11209, USA
Contact- (718) 833-1313
Timings- Monday to Tuesday- 12 PM to 11 PM
Gargiulo's
When you enter the doors of Gargiulo's, you will smell all the fresh, flavorful Italian dishes. The Italian dishes they serve are super fresh, including Ubiquitous Veal Marsala, Pasta Carbonara and many other varieties of Risotto. Whether you are planning to visit here for any birthday or anniversary celebrations, you will always see a glimpse of a busy event where dancers and bands will make your evening more memorable.
The food quality is unbeatable, made with authentic and fresh ingredients. The dining area is so big that around 20 to 400 people can easily host. Moreover, Spumoni, Tortoni and Tartufo will provide you with delightful flavors and are a must-try here.
Address- 2911 W. 15th St. (Surf & Mermaid Aves.), Brooklyn, NY 11224
Timings- Monday- 12 PM to 10 PM
Tuesday- Closed
Wednesday and Thursday- 12 PM - 10 PM
Friday and Saturday- 12 PM - 11 PM
Sunday- 12 PM - 9 PM
Trastevere
If you're looking for a romantic and cozy spot to spend time with your special one, don't look any further and head to Trastevere! The owner at Trastevere cares about the customer experience. He will provide the best advice on which Italian dish you can try! Moreover, the staff is also very knowledgeable and knows every little detail. Here you can try different Italian dishes like Fettuccine Alla Bolognese(made with homemade fettuccine), Tortelloni Alla Boscaiola (filled with chicken, ground veal and lamb), Cannelloni Alla Roy(made with homemade pasta rolls and many more! This classic Italian Roman-style restaurant offers a dining experience that no one else can match.
Address- 1391 Coney Island Ave, Brooklyn, NY 11230, USA
Timings- Monday to Thursday- 5:00 AM- 11:00 AM
Friday- Closed
Saturday- 7:00am-11:00am
Sunday- 3:00 PM-10:00 PM
Cavatappi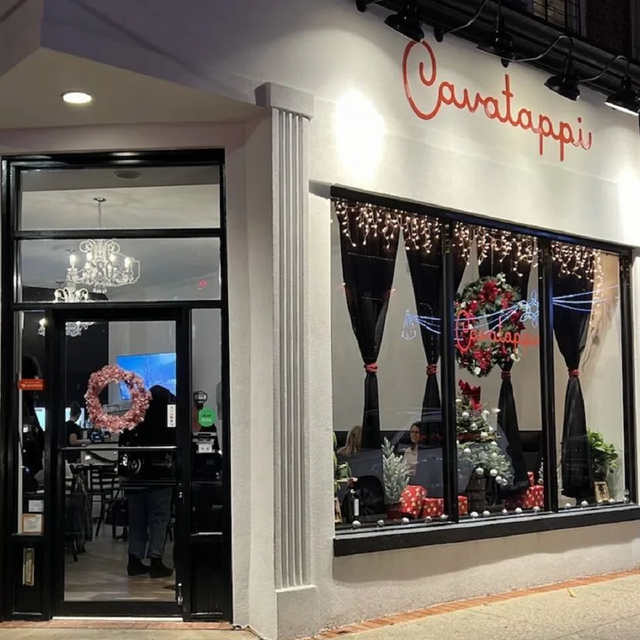 Restaurant Cavatappi is situated in the center of Brighton Beach, Brooklyn. The head chef, Chef Ingarao, manages the restaurant. Chef Ingarao has many years of experience in the culinary industry and is passionate about each dish he prepares. Cavatappi serves various traditional Italian dishes with a unique twist in each dish. Try their Kansas City pork chop. How do they make this dish? First, they pan the pork chop, bake it perfectly, and finally serve it with Parsnip apple sauce. Whether you are looking for seafood, pasta, and meat, it has something for everyone. The warm and inviting atmosphere makes it the ideal place to enjoy your favorite seafood.
Address- 8024 13th Ave, Brooklyn, NY 11228, USA
Timings- Tuesday to Saturday- 12 PM - 10 PM
Sunday- 12 PM - 9 PM
Monday- Closed
Mancini's Wood-Fired Pizza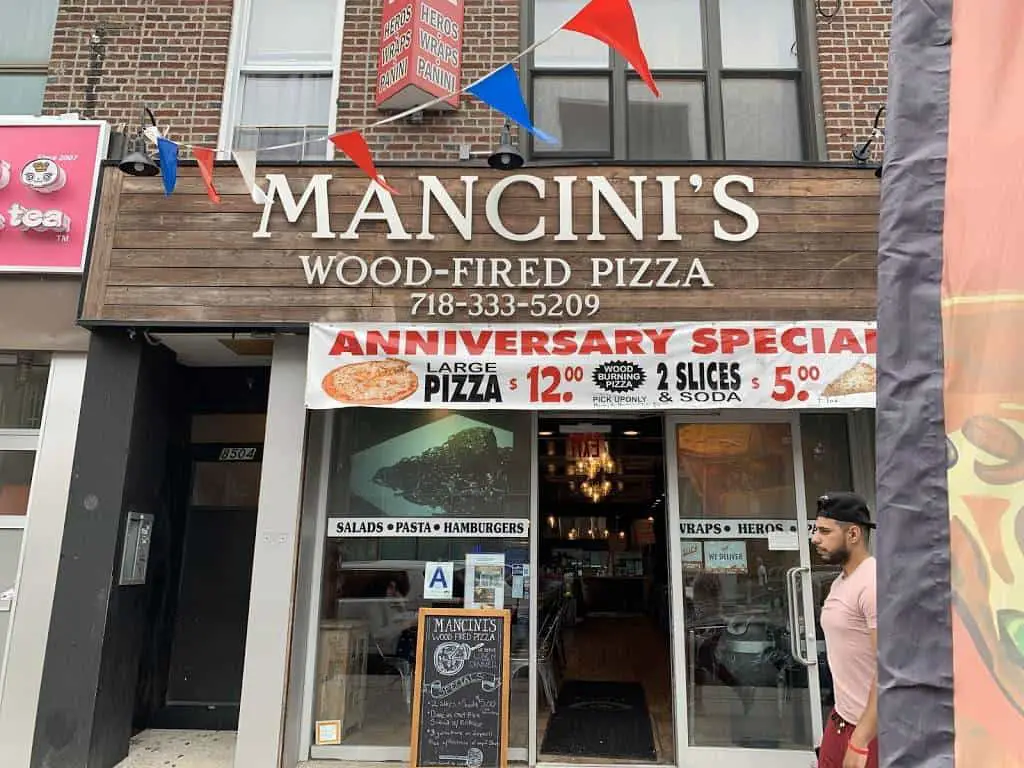 Mancini is a wood-fired Italian restaurant that serves all the classic Italian dishes such as pasta, dinner, pizza, and so much more! Of course, the most popular dish at Mancini is wood-fired pizzas, which also come in various varieties. Classic appetizers and side dishes are also available. They specialize in making brick oven pizza as well as pasta. If you're a fan of Nutella pizza, you'll love the powdered sugar Zeppoles. The staff at Mancini is friendly and welcoming, making you feel like a part of the family.
Address- 8504 5th Ave, Brooklyn, NY 11209
Timings- Monday to Sunday- 11:00 AM- 9:45 PM
L & B Spumoni Gardens
If you love Spumoni, visit the L & B spumoni garden restaurant. Spumoni is the signature dish of L & B spumoni gardens. It is a pie with a chewy crust and a right mixture of tomato sauce and is topped with cheese. Their unique thing is that they make their own Spumoni and supply it to other eateries around the NYC area.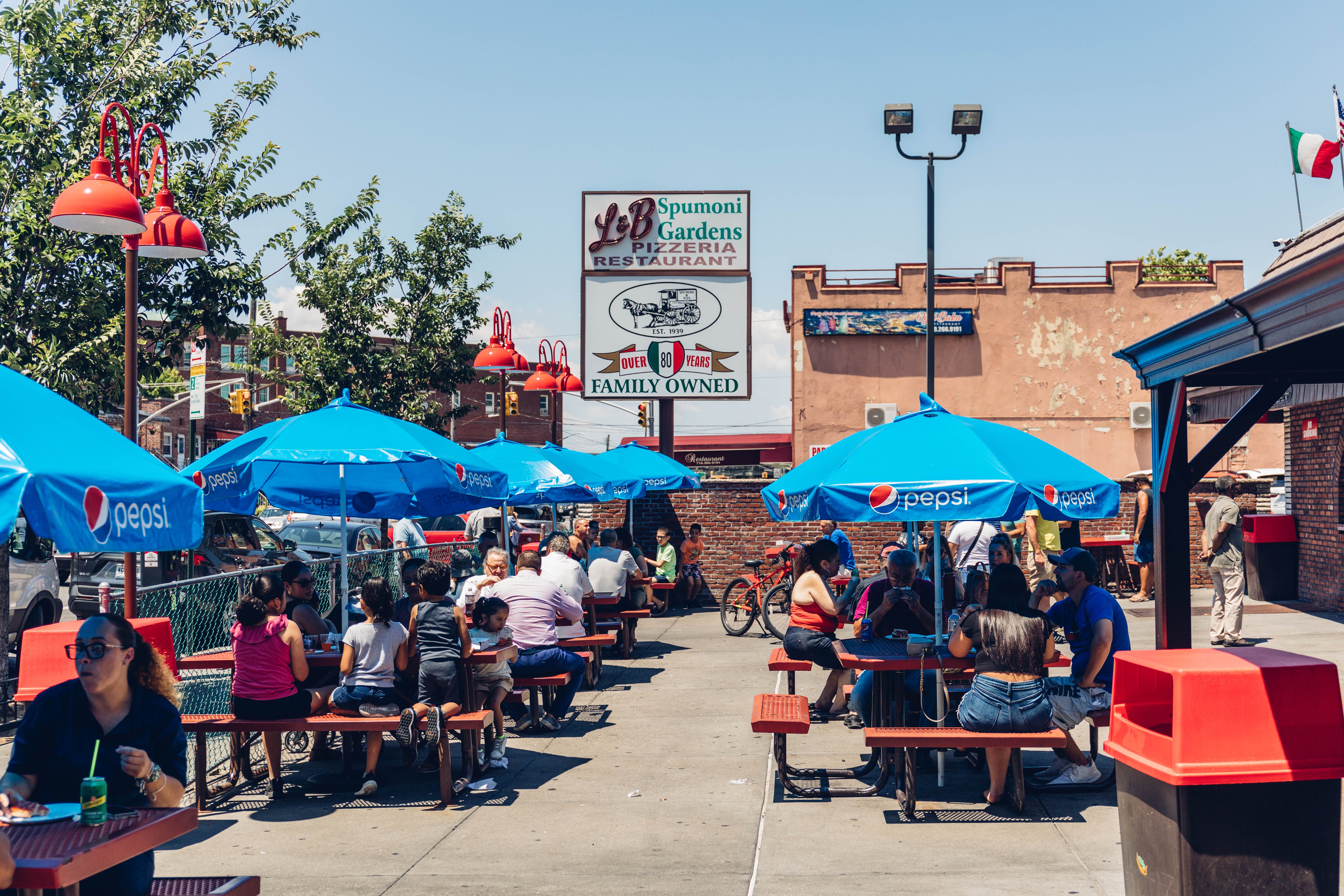 On a warm summer night, you will find a crowd gathered around the pick-up windows and eating areas. Moreover, they also make crisp, fresh, and tasty pizza, and you don't have to wait for the pizza to cook because they have enough ovens. The menu also features some favorite Italian dishes, such as the veal piccata with white wine, green olives, pasta puttanesca, fried calamari, and mushrooms. You should try this place!
Address- 2725 86th Street, Brooklyn, NY, 11223
Timings- Monday to Sunday- 11 AM - 11:30 PM